July 8, 2015
Customers, like Sherry, depend on Metro transit to get to work, school and other important destinations. We hope you enjoy her story, and we're interested in your transit story too. Email [email protected], and we may share your story in a future "Passenger Profile" blog.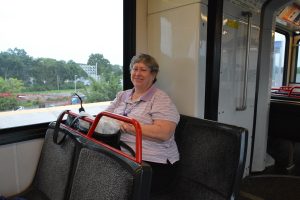 About a year and a half ago, Sherry made the decision. She didn't want to deal with high parking prices at work anymore, so she decided to turn to Metro transit.
"I was hesitant to use it at first, but now I enjoy it," she said.
The parking situation where she worked, Washington University's campus in the Central West End, had changed. Not only had the price of parking increased, but Sherry ended up needing to park even further away.
"There were times that it would actually take you longer to park at Wash U than it would take just to get there," Sherry said.
Luckily, Sherry had options. As an employee of Washington University, one of her perks is a free transit pass. Sherry's been able to take advantage of this benefit, and of the benefits of using Metro transit.
"I don't have to pay for parking or for gas," she said. "I don't have to hassle the traffic too, and that's a biggy."
Every day, Sherry boards a Blue Line train from the Shrewsbury-Lansdowne I-44 MetroLink Station to the Central West End MetroLink Station. It's about a 20 minute commute, Sherry said, enough time to play games on her phone or read a book.
Outside of her work commute, Sherry uses MetroLink to head downtown for a ball game or take the train to Lambert-St. Louis International Airport.
"It's so convenient," she said.
Return to Blog