April 23, 2014
Thousands of customers depend on Metro transit every day to get to work, to school and other important destinations. We are going to share some of their transit stories as part of a new feature called "Passenger Profile."  We're interested in your transit story too. Email me at [email protected] and we may share your story in a future blog.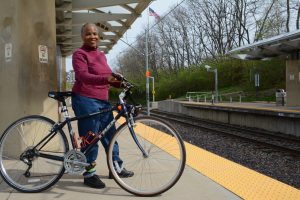 Sheryll has been riding MetroBus since she was nine years old. To her, riding the bus became a habit, a way of getting to and from school and around town.
"I've been a long-time bus rider in St. Louis," she said. "I didn't have a car as a teenager. I rode the bus and walked."
In high school, Sheryll and a friend would ride the bus together and would walk long distances (sometimes as far as three to four miles) in order to get to certain places.
"It was a lovely experience," she said. "I've been accustomed to walking long distances."
Sheryll's normal commute usually starts by taking the #42 Sarah to the Central West End MetroLink Station. From there, she takes a Red Line train to the Delmar Loop MetroLink Station, walks a few blocks and arrives at Great Rivers Greenway, where she works as a part-time events specialist.
In addition to using MetroBus, MetroLink and walking, Sheryll also uses her bicycle as much as she can. She started using the bicycle racks on the buses two years ago. At first, she wasn't sure she could maneuver her bike to use the bike racks, but she figured it out after the first attempt.
"From that point on, I had the confidence to manage my bike on the bus or on the train," she said.
Sheryll has several reasons for using public transit rather than driving her car, which she shares with her husband. Sheryll drives when necessary, and otherwise plans to walk, bike or use Metro to accommodate her schedule and needs.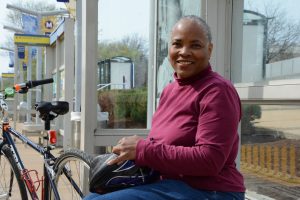 "I use the money I would spend on a car for other things such as vacations," she said.
She added taking MetroBus also allows her time to look around and see what you cannot see from a car.
As for tips for those new to public transit, Sheryll has a few recommendations. First, in order to take full advantage of the services Metro transit provides, Sheryll said it doesn't hurt to be prepared and organized before stepping out the door. Also, don't make a decision after the first experience.
"As a new rider, you may not know what to expect," she said. "Get out there a little early before the bus arrives, do your homework and maybe get a travel buddy."
Return to Blog