June 24, 2015
Customers, like Stephanie, depend on Metro transit to get to work, school and other important destinations. We hope you enjoy her story, and we're interested in your transit story too. Email [email protected], and we may share your story in a future "Passenger Profile" blog.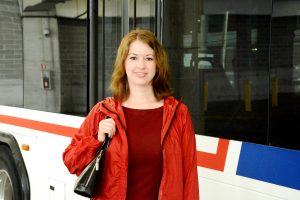 If neighborhoods gave awards to its residents for community pride and involvement, Stephanie would be a contender in the Shaw neighborhood.
Last fall, Stephanie and several volunteers formed Shaw & Tell as a way to share ideas and experiences within the Shaw neighborhood. One of those volunteers, Emma Klues (a past Passenger Profile), offered to share her knowledge of public transportation.
"We wanted to encourage people to try out a bus route in a low-key way by taking a short ride to a coffee shop," Stephanie said. "I remember feeling apprehensive when I hopped on the bus for the first time."
Stephanie started riding MetroBus last July after Washington University increased the price of a parking permit. With the help of Citizens for Modern Transit's Try & Ride program, Stephanie got on board and hasn't looked back.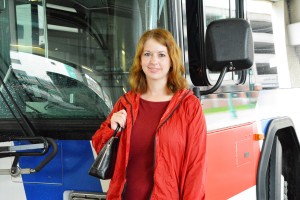 "It was really easy and saving me money," she said. "With Metro, you don't have to worry about parking and it's less stressful."
Today, Stephanie uses MetroBus to get to and from the Washington University Medical Campus in the Central West End. She usually hops on the #80 Park-Shaw and takes it to the Central West End Transit Center. If she's unable to take the #80 Park-Shaw, Stephanie has other options like catching the #14 Botanical Garden or #70 Grand.
In addition to trying out public transportion with friends, Stephanie recommends new riders take advantage of tools on your smartphone like Google Transit and Metro's app Metro On The Go. Also, test out an easy route to start off.
"Start with a direct route too," she said.
Return to Blog