December 2, 2015
Passengers, like Tina, depend on Metro transit to get to work, school and other important destinations. We hope you enjoy her story, and we're interested in your transit story too. Email [email protected], and we may share your story in a future "Passenger Profile."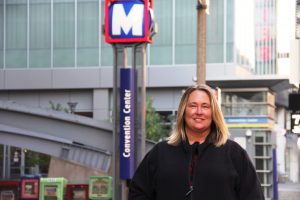 Tina first started riding Metro back when MetroLink only went as far east as the 5th & Missouri MetroLink Station in East St. Louis. But, just like the current MetroLink map, her transit use has grown through the years.
Today, Tina walks about a block from her home to catch the #12 O'Fallon-Fairview Heights bus to reach either the Fairview Heights or Shiloh-Scott MetroLink Stations. From there, she rides MetroLink into downtown St. Louis and exits at the Convention Center MetroLink Station.
"I have time for my brain to wake up and to unwind," she said. "I don't have to focus on the road. I can catch up on the news, read a book or stalk my kids on social media."
She said her transit commute takes about an hour to complete as opposed to driving, which would take about 30 minutes. However, if she were to drive, she'd have to deal with construction, traffic, detours and other factors outside her control.
"When you're on a transit schedule, it puts your life on a schedule too," she said.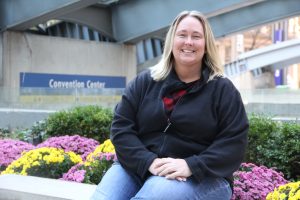 This structured lifestyle enables Tina to effectively plan her day, which provides her with a more productive and satisfying well-being. She's also more accountable, especially when it comes to her social life. When she meets friends, she can tell them what train station and at what time she will arrive.
Tina started regularly riding transit in 1996, and she can still remember those first few days on the bus.
"The first thing I did was call the Customer Service line," she said. "I explained to them that I was new to transit. The representative on the other line was extremely patient and understanding and I was able to receive a couple of transit options for my commute."
Tina also remembers a special experience on MetroLink.
"I was riding the train with an older couple, and you could clearly tell someone had dropped them off at a MetroLink station with their luggage and that was that," she said. "Even though I was planning to exit the train at the North Hanley MetroLink Station, I stayed the extra few stops to help them get to the airport. They offered me money. I declined."
"I just hope in 40 years, a young whippersnapper helps me out in that same situation too," she said. "That's what I like about public transit. Everyone is there to help each other. People helping people."
Return to Blog