July 30, 2014
Thousands of customers depend on Metro transit every day to get to work, to school and other important destinations. Today's "Passenger Profile"  features Travis. We're interested in your transit story too. Email me at [email protected] and we may share your story in a future blog.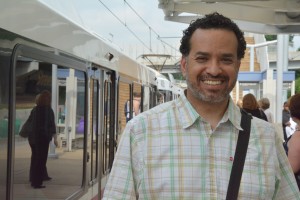 When Travis moved to St. Louis from California in 2012, he moved here without a car. For 16 months, he used Metro transit to get around.
Travis made a few transit mistakes in the beginning.
"When I first started exploring, I went to a job interview in Clayton. That's when I learned there were two lines – a Red and a Blue. I ended up in the Loop," he said. "I knew the geography enough that I knew I was heading in the wrong direction. I was able to take a bus to the Skinker MetroLink Station and continue on my way to Clayton."
After that, Travis sat down and created a travel plan and he did his research.
When Travis used to live Downtown St. Louis, he'd walk a few blocks to the Union Station MetroLink Station. He would then take a Red Line train to the Delmar Loop Station and board the #91 Olive to Creve Coeur.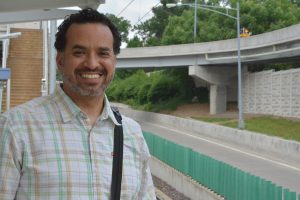 "I found it to be easy," he said. "I loved how it synced with Google Maps."
In addition to its ease, Travis also enjoyed not having to worry about car payments or filling up at the gas station. He also enjoyed the flat monthly fare each month.
Then when he was promoted at the St. Louis Economic Development Partnership, he had to scale back on using public transit . The promotion required him to cover five incubators across the entire region.
"It wasn't feasible to take Metro at that point," he said.
Today, Travis has a new job as the executive director of Venture Cafe – St. Louis in the Cortex District. He plans to bike once a week to work and use Metro once a week.
"Most of my meetings are walkable, so it'll be a great way to be multi-modal," he said.
With access to the local entrepreneurial community, Travis is able to listen to what startup companies are looking for. He said public transportation is a high priority for many new companies.
"Startups want to use their money as efficiently as possible," he said. "Spending money on a car payment and car insurance is an added cost."
Travis said startups are looking for various modes of transportation so that they have options.
Return to Blog