January 14, 2015
Thousands of Bi-State area residents depend on Metro transit every day to get to work, to school and other important destinations. Today's "Passenger Profile"  features Tyrone. We'd like to hear your transit story too. Email  [email protected] and we may share your story in a future blog.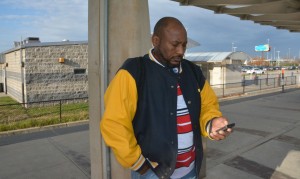 For more than 20 years, Tyrone has relied on Metro to get things done.
He uses MetroLink to get to work, and MetroBus and Madison County Transit (MCT) to run errands.
"I use it (Metro) to get around and take care of every type of business," he said. "It's convenient, safe and easy to figure out."
He typically starts his commute by riding the #5 Tri-City Regional MCT bus to the Emerson Park MetroLink Station, and then takes the train to the 5th & Missouri MetroLink Station. Sometimes, Tyrone uses the #4 19th and Central – ML King Illinois bus to take care of errands.
"It's a relaxing ride," he said. "It's less hassle than dealing with traffic."
Tyrone said he usually sits and talks on the phone while on the train or bus. He also scrolls through Facebook and sometimes listens to music.
He said life would be difficult if he didn't have Metro to get him where he needed to go. He said with gas prices going up and down, it would be rough without public transportation.
In addition to being a convenient option for him, Tyrone said Metro also allows him to mentally prepare.
"The ride gets your head ready for the day," he said. "If you have somewhere important to go, you can get there with a clear head instead of a cloudy head."
Return to Blog