April 21, 2021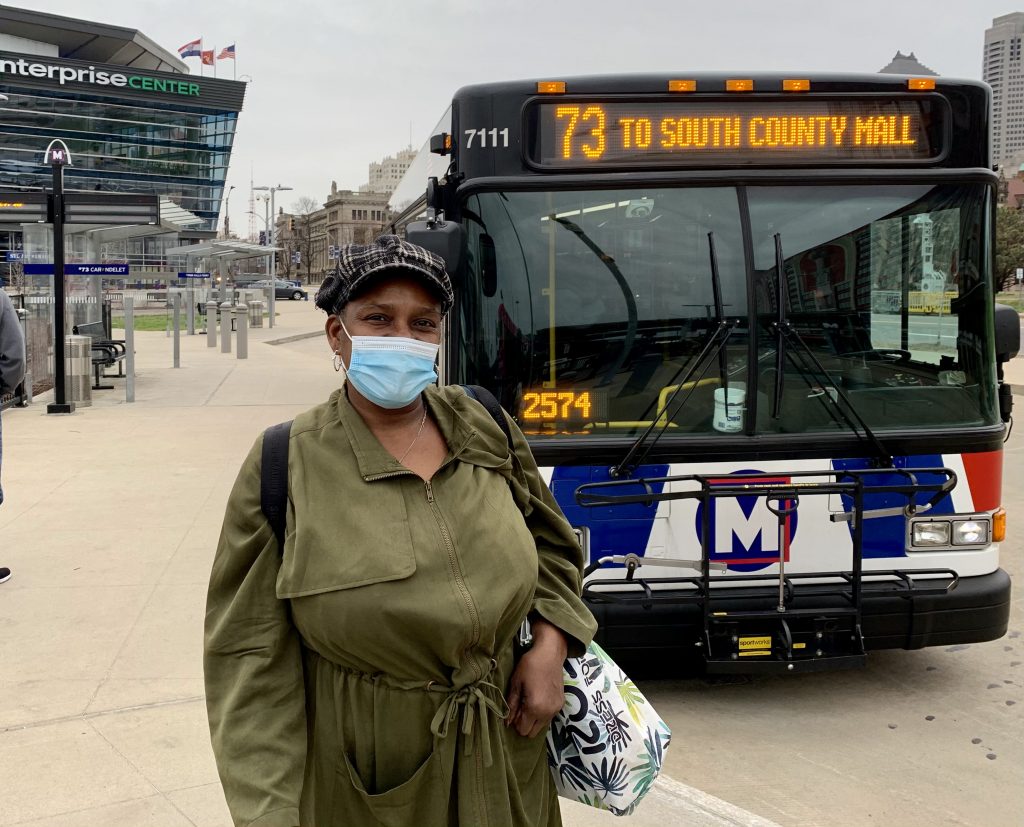 Vickie has been using MetroBus and MetroLink to get around for around 10 years, and loves the ability to use public transportation.
"I'm on the bus and train all the time, and without Metro, I wouldn't be able to get around."
She conveniently lives near the Forest Park-DeBaliviere Transit Center, and she knows she can count on Metro Transit to get her where she needs to go.
You can find her on both the Red Line and Blue Line, as well as many of our MetroBus routes, including the #73 Carondelet and #90 Hampton. She always has a plan to get the most out of her trip and knows the schedule well, so she will often combine trips for errands so she can get it all done at once.
"I plan my rides accordingly – I go do my laundry, go to work, stop at the grocery store. Do it all in one trip. By the time I get home I have done all the errands I need to."
Vickie appreciates our operators, and likes to build good relationships with them – especially the operators she sees regularly on her commute.
"A lot of drivers are courteous and attentive – since I ride every day, I work up a rapport with the drivers."
Check out our Q&A below to learn more about Vickie. 
---
What do you like best about Metro Transit?
It is helping me financially. It gives me my ability to be able to get around without too much financial stress.
What is your favorite way to spend your commute?
I like to listen to my music or check emails or catch up on social media, but I also try to be vigilant and observant on my commute.
Do you have a favorite bus route?
In the morning, the #73 Carondelet is my favorite. 
Do you have advice or tips for someone who is new to the system?
Be on time for your bus and check the schedule. You can rely on the schedule to know when the bus or the train is going to be there. You can also use the Transit app to see if there are delays or a reroute.
---
Passengers like Vickie rely on Metro Transit to get to work, school and other important destinations. We want to hear your transit story. Email us and we may share your story in a future Passenger Profile.
Return to Blog
Categories:
Metro Lifestyle