December 30, 2015
Passengers, like Walter, depend on Metro transit to get to work, school and other important destinations. We hope you enjoy his story, and we're interested in your transit story too. Email [email protected], and we may share your story in a future "Passenger Profile."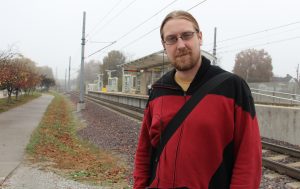 While Walter has only lived in the bi-state area for less than a year, he's already got a good understanding of how to navigate both sides of the Mississippi River.
"I'm on Metro pretty much five times a week," he said. "It's definitely convenient, reliable, easy and it's available to everyone."
Walter's average day commute start off by boarding the #1 Main Street – State Street MetroBus near Lindenwood University's Belleville campus and riding it to the Belleville MetroLink Station. From there, he boards an eastbound Red Line MetroLink train to the College MetroLink Station where he attends classes at Southwestern Illinois College (SWIC).
As a student of SWIC, Walter takes advantage of Metro's University Pass or U-Pass program, which allows him to ride MetroBus and MetroLink free of charge.
"I'm extremely spoiled by the U-Pass," he said.
Walter just started a two-year program at SWIC. He's currently part of the sign language interpreter program.
In addition to using Metro transit to get to and from school each day, Walter also has used MetroLink and MetroBus to travel to downtown St. Louis and even go as far as to Lambert-St. Louis International Airport.
"I had a friend come and visit me recently and her flight landed at Lambert," he said. "So I took MetroLink all the way to the airport. Three bucks for an hour-long commute isn't bad."
As far as what Walter does during his Metro commute is really up in the air.
"I just sit back and watch the world go by," he said. "Sometimes I listen to music, a little bit of everything. I don't have a train playlist yet."
Return to Blog