May 25, 2012
Peter & Paul Community Services Paints Metro Art Bus in Benton Park West
Return to Blog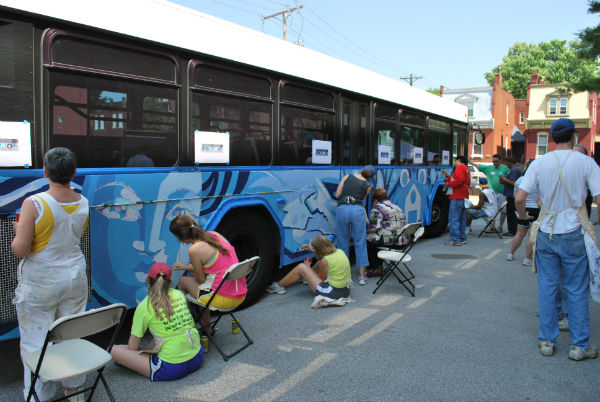 Children, families, individuals, alumni, donors, staff, volunteers and residents of the Benton West Park neighborhood got together May 19 to celebrate the 30th anniversary of Peter & Paul Community Services (PPCS) by painting murals of the organization's new logo on a MetroBus, as part of Metro Arts in Transit's Bus Painting Program.
"It's a pleasure working with Peter & Paul Community Services. They have a long history of including art into their mission of helping the homeless. Art enriches us all," said David Allen, Metro Arts in Transit Director.
Click here to view the slideshow.
Illustrator and Graphic Designer Steve Edwards created the mural for the special event. "I designed this mural to illustrate the five pillars of Peter and Paul Community Services: Hope, Empowerment, Compassion, Hospitality, and Acceptance," said Edwards. "This is the first time we're creating a mural entirely in blue, Peter and Paul's new signature color. Blue offers us a surprising range of shades, hues, and meanings. Blue can be dark: We all face tough times. Each of us, in our own way, may face a Picasso-esque 'blue period.' But Blue can also show us at our best: Strong, dignified, optimistic, and -like the sky- open to new possibilities."
The former Garfield Elementary School building and property was purchased by Peter & Paul Community Services in March 2012 to be converted into 25 apartments for the chronically homeless. The organization serves more than one thousand homeless children, seniors, veterans, men and women every year through its transitional housing programs, emergency shelter and meal programs. More than 1,300 volunteers donate 8,000 hours of service every year to assist Peter & Paul Community Services.
The Arts in Transit bus will operate various routes on the streets of St. Louis and St. Louis County for one year to mark the 30th anniversary of service to the community's poor and homeless. The Art Bus Fleet Program partners Metro with non-profit organizations in the community like Peter & Paul Community Services to raise awareness for their groups.
If you or your organization are interested in participating in the Arts in Transit Bus Painting Program, email David Allen at [email protected].
Return to Blog