February 13, 2013
Piece of New Six Flags Roller Coaster Parks In Front Of The Gateway Arch
Return to Blog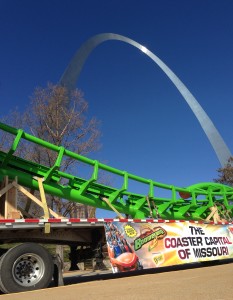 A new roller coaster on its way to Six Flags St. Louis made a pit stop at the Arch Monday.
The new roller coaster, Boomerang, is a mix of twists, turns and loops. The 28-passenger trains are pulled up 125 feet backward to the top of the first lift hill and then released to shoot out through the 1,650 feet of track at up to 50 miles per hour. Guests will sail through a half loop, then into a right half cork screw, a left half cork screw and finally another half loop. And, just when guests think they are done, the trains fly through a full loop before climbing a second lift hill. Staying true to its name, Boomerang takes guests full circle to where they began sweeping through the spirals, loops, twists and turns again.
The coaster is making its way from Texas, piece by piece, to the amusement park via tractor trailers. There are a total of 28 trucks carrying the coaster. One huge, green piece strapped to a 53-foot trailer stopped for a photo op at the Gateway Arch.
Metro employees, Six Flags employees and representatives from the St. Louis Convention & Visitors Commission, were all on scene to welcome the huge piece of coaster to the Gateway Arch grounds.
Boomerang is scheduled to open Spring 2013 in the Illinois section of the park.
Return to Blog