November 28, 2012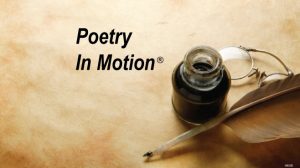 The winners of the 2013 Poetry in Motion Contest sponsored by Metro Arts in Transit, the Poetry Society of America, and the Regional Arts Commission (RAC) will be honored this Thursday.
The Poetry in Motion® Reading and Reception will be held at The Studio of the RAC located at 6128 Delmar Boulevard in University City. Doors open at 5 p.m. with acoustical guitar music by Haitian-American Mario Pascal and the program begins at 5:30 p.m. The event is free and open to the public.
The ten contest winners who all live within a 50 mile radius of St. Louis have been invited to read their poems. The winning poets are: Sandra A. Cannida from St. Louis, Antoinette Crayton from Florissant, Linda O'Connell from St. Louis, Heather Farrar from St. Charles, Elona S. Johnson from Florissant, Frank Kras from St. Louis who had two poems selected for publication, Madeline Jean Jackson from Florissant, Grady Manus from Defiance, Patt Hollinger Pickett from St. Louis, and Aaron Williams from St. Louis. Poets will be presented $50 for each winning poem.
Click here for more information on this year's Poetry In Motion contest.
Return to Blog