June 24, 2015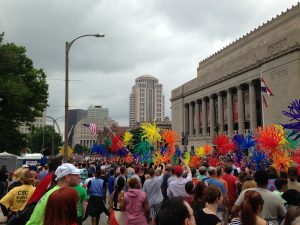 Road closures may make getting in and out of downtown St. Louis more of a challenge this weekend, and for those who plan to attend 2015 PrideFest June 26 to June 28, Metro transit may be a good option. The festival is being held at Soldier's Memorial.
Metro customers can park for free at any Metro Park-Ride lot in Missouri or Illinois and take MetroLink to the Civic Center MetroLink Station or 8th & Pine MetroLink Station. Both stations are about five blocks away from the festival grounds located on the 1300 block of Chestnut.
MetroBus is also a good option for getting to the downtown festivities this weekend. Festival-goers can take MetroBus to one of the 37 MetroLink stations on the system, or ride on one of the 13 MetroBus routes that connect with the Civic Center Transit Center and then walk north on 14th Street to get to the festival. Customers can plan their trip on Metro to the 2015 PrideFest by using Trip Planner.
MetroBus Reroutes
In order to prepare for the parade on Sunday, some downtown streets will close Friday, June 26. Chestnut will be closed from Tucker to 15th Street and 13th, 14th, and 15th Streets will be closed from Market Street to Olive Street. Downtown streets are expected to close at about 9 a.m. on Friday and reopen Monday at 6 a.m. The road closures will affect:
On Sunday, Market Street will be closed between Broadway and 20th Street from 6 a.m. to approximately 2 p.m. for the PrideFest parade and 5K run. The run will start at 7 a.m. and the parade will begin on Market at 7th Street at noon. Festival grounds open at 11 a.m. Due to the run and parade, these bus routes will be affected:
Specific details and individual maps for reach reroute can be found on the Rider Alerts section of our website.
Return to Blog
Categories:
Metro Lifestyle