November 15, 2013
Public Art Sculpture Installed at Union Station MetroLink Station
Return to Blog
Have you noticed the new public art sculpture at the Union Station MetroLink Station?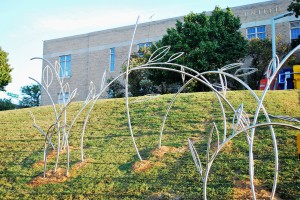 "The sculpture depicts fantastical plant forms that leap and arch from the north grassy embankment, celebrating the new vitality that MetroLink brings to the urban center and the entire St. Louis area," sculptor Jim Gallucci said.
Creation of the 12-feet-tall by 30 feet wide by 15 feet deep sculpture took the Greensboro, North Carolina-based artist two-and-a-half years, including engineering review, fabrication and installation. The public art is titled "Spring Forth" and is made out of stainless steel.
"Jim Gallucci's new artwork provides an elegant gateway welcoming passengers to Metro's Union Station," said David Allen, Metro Arts in Transit Director. "This was a challenging project because of the steep slope of the site. I thank everyone involved for their dedication in making this project a success."
Contractors involved in working with Gallucci and Metro transit on this project include Hawkinson Associates, LLC, Landwehrmann Engineering, PLLC and Heidman Associates, Inc.
The work is one of 12 sculptures Gallucci currently has on display in the Midwest. Utilizing the element of doors and gateways, Gallucci's sculptures are designed to provide an "entry" for the public to access and embrace art. Gallucci employs a staff of four who work full-time from his studio in Greensboro, N.C., designing and fabricating sculptures for public, corporate and residential spaces across the United States.
Sculpting for more than 35 years, Gallucci's past work has included serving as an exhibit designer for the North Carolina Zoological Park in Asheboro, N.C.; the creation of decorative gates as part of the Greensboro, N.C. Downtown Greenway project, and the design and fabrication of eight benches for Sacred Heart School in Atherton, Calif., featuring quotes from notable historical figures.

Created with flickr slideshow.
Return to Blog