February 19, 2013
Public Invited to Attend Transit-Oriented Development Meetings
Return to Blog
Updated 2/21/13: Fairview Heights meeting postponed due to weather. 
You are invited to participate in a regional planning effort currently underway focusing on economic development potential around several MetroLink Stations: North Hanley, Emerson Park, Jackie Joyner-Kersee Center, Fairview Heights, Union Station, Civic Center, and Rock Road Station.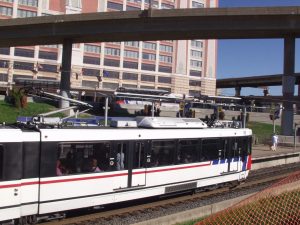 The East-West Gateway Council of Governments (EWG) and its partners are leading the regional planning effort to create more places to live, work, shop, and play near MetroLink. This Transit-Oriented Development (TOD) study is part of a Regional Communities Planning Grant awarded to the St. Louis region by the U.S. Department of Housing and Urban Development (HUD).
Five meetings are scheduled for February 19-21 and February 25-26 from 5:30 – 7:30 p.m., for residents to learn about transit-oriented development and to consider potential development options for the viability of transit-oriented development around the selected stations. Each meeting will feature a presentation at 6 p.m. that focuses on one or two of the target stations. After each presentation, through interactive keypad polling, residents can express their thoughts on development opportunities and amenities they would like to see occur around those MetroLink stations. The format and information presented will be the same at all locations:
Tuesday, February 19
North Hanley Station
Location: Hilton Garden Inn-
St. Louis Airport, Ballroom
4450 Evans Place
St. Louis, MO 63134
Wednesday, February 20
Emerson Park and Jackie Joyner-Kersee Stations
Location: Jackie Joyner-Kersee Center
101 Jackie Joyner-Kersee Circle
East St. Louis, IL 62204
Monday, February 25

Union Station and Civic Center Stations
Location: St. Louis Development Corporation (SLDC)
1520 Market Street
Boardroom, Second Floor
St. Louis, MO 63103
Tuesday, February 26
Rock Road Station
Location: City of Pagedale City Hall
1420 Ferguson Avenue
St. Louis, MO 63133
Wednesday, February 27th
Fairview Heights Station
Location: Caseyville Township
Senior Center, Lower Level
10001 Bunkum Road
Fairview Heights, IL 62208

Check out TOD Public Informational Meetings for more information. After the meetings conclude, you will able to take an online survey on that website if you cannot attend one of the meetings. As part of Metro's contribution to the project, Metro staff members have performed an analysis of all 37 MetroLink stations and compiled a detailed Station Area Profile for each one. The profiles can be viewed here.
After looking at all 37 stations, plans will be created for five MetroLink station areas to outline how future development will proceed at each of the selected stations and a detailed road map will be provided for developers and local governments to complete new transit-oriented developments over the short and long term.
Return to Blog