November 27, 2012
Public Safety Officer Prepares for Customer Service Success Everyday
Return to Blog
Not every job at Metro Transit carries a customer service title, but all Metro employees provide customer service.
Metro Public Safety Officer Susanne Price was working at the Grand Metro Transit Center today as I waited for the #70 Grand.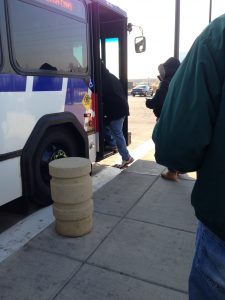 As Susanne and I were discussing how I communicate with our customers, something she said really stood out. "Every (Metro) position has to be prepared to serve the customer and help them out."
Today the south elevator at the Grand MetroLink Station was temporarily out of service. Susanne explained to me that she had been preparing all morning to help someone in need either get down the stairs, or across the street to the north elevator. "While we wait for it to be fixed, I have to pray for the best, and be prepared to explain the situation," Susanne told me. "I know people will be upset they either have to cross the street at the cross walk to the other elevator or take the stairs. I just want to be there to provide them with a safe route, and help them anyway I can."
As passengers walked up to the elevator, disappointed it was out of service, Susanne was there to ensure them there was a way for them to get down to the station safely.
Susanne is a great example of how all Metro employees are part of our great customer service mission.
Do you know a Metro rider or employee who has a great story? Email me at [email protected].
Return to Blog