March 1, 2021
March 15 Service Change: Return of Pre-Pandemic Service Levels and 15-Minute MetroBus Service
Return to Blog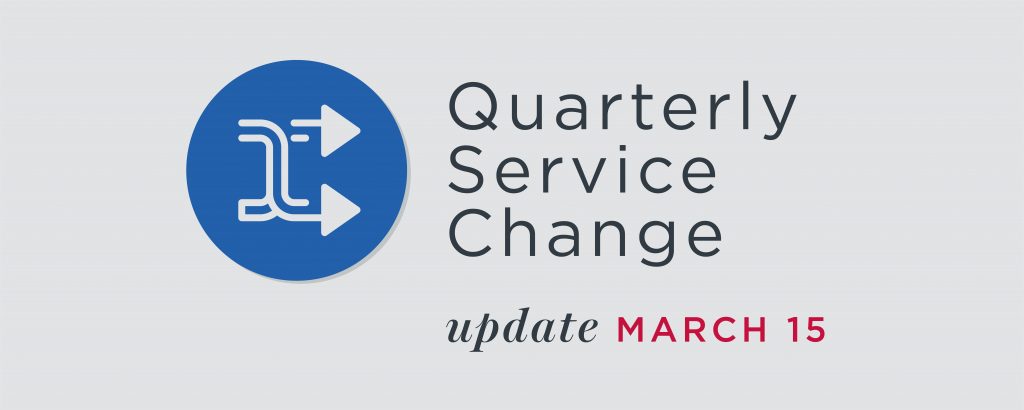 Metro Transit will make adjustments to 45 MetroBus routes in Missouri and Illinois on Monday, March 15, as part of a quarterly service change. These adjustments will increase service frequency for many MetroBus routes, including 10 routes returning to 15-minute weekday daytime service, and will create better MetroLink and MetroBus connections.
Due to the COVID-19 pandemic, it was necessary for Metro to make several changes to transit services over the last 12 months to maintain safe operations and match available resources to ridership needs. With new safety measures in place, including innovations in vehicle cleaning and disinfecting, Metro is now able to safely resume pre-pandemic weekday service on most MetroBus routes in Missouri. Regular service was previously restored on Illinois MetroBus routes.
You can find new schedules and route information for the March 15 Service Change here: metrostlouis.org/upcoming-schedule-changes.
---
Reminders for Riding Metro Transit
Before you ride, here are some reminders to keep you, other passengers, and our team members safe:
Face coverings are required by federal law. Please wear your face covering on MetroLink platforms, at Metro Transit Centers, when riding on MetroLink, MetroBus and Metro Call‑A‑Ride vehicles or waiting for your bus.
Whenever possible, practice social distancing when on your vehicle or when waiting at your stop.
Wash your hands regularly, or use hand sanitizer, and don't ride if you are feeling ill.
Use the Transit app for a contactless fare. You can buy MetroBus and MetroLink one-ride tickets and 2-hour passes through the Transit app with our mobile fares option.
See something? Say something. Metro Public Safety is available 24/7 to address any of your concerns. Text 314.300.0188 or call 314.289.6873.
Metro remains committed to moving the region safely during the pandemic. You can learn more about what we are doing and how you can help here: metrostlouis.org/health
---
For more information or assistance, please contact Metro Transit Information. 
314.207.9786 (TEXT) |​​​​  314.231.2345 (PHONE)
7 a.m. – 6 p.m. | Monday through Friday
Return to Blog
Categories:
Rider Alert
,
System Changes