August 24, 2021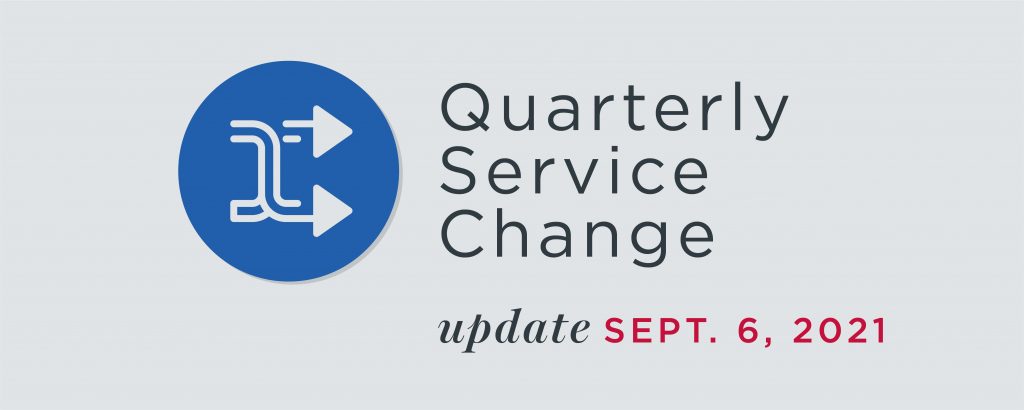 Metro Transit will make adjustments to MetroBus routes in the City of St. Louis and in St. Louis County on Monday, September 6, as part of its quarterly service change and to address operator shortages. These route and schedule adjustments are being implemented to better match service levels to available manpower resources, which will help minimize delays and provide you with more reliable MetroBus service. In addition, changes to three MetroBus routes are being implemented to provide better connections for workers employed at several businesses in North St. Louis County. There are no scheduled changes for MetroLink or MetroBus service in Illinois.
Due to a shortage of transit operators, Metro Transit has been forced to cancel select MetroBus trips on a daily basis. The adjustments outlined in this quarterly service change will help improve MetroBus service reliability, however, select bus trips may continue to be cancelled as needed.
To check on the status of your bus, use Transit app or contact Metro Transit Information at 314.207.9786 (text) or 314.231.2345 (phone), Monday through Friday from 7 a.m. to 6 p.m.
New schedules and route information for the September 6 service change are available on the Upcoming Schedule Changes page.
Before you ride, here are some quick reminders:
---
For more information or assistance, please contact Metro Transit Information. 
314.207.9786 (TEXT) |​​​​  314.231.2345 (PHONE)
7 a.m. – 6 p.m. | Monday through Friday
Return to Blog
Categories:
Rider Alert
,
System Changes