August 3, 2016
Reminder: MetroLink, MetroBus Schedules Changing on August 22
Return to Blog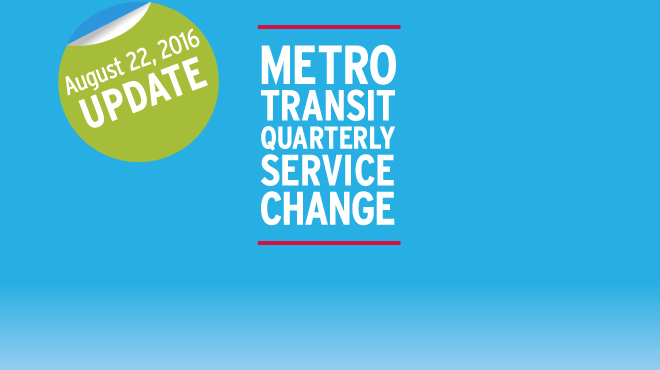 Your MetroBus and MetroLink schedule is going to look a little different on Monday, August 22 — that's when Metro's next quarterly service change goes into effect.
With trains now operating on both tracks across the Eads Bridge, MetroLink will change its schedule for the first time since 2012. These changes will improve connections for passengers who transfer between Red Line and Blue Line trains at the Forest Park-DeBaliviere MetroLink Station.
In addition, all MetroBus routes in Missouri will have minor changes to their schedules.
Detailed information on the new schedules will be available soon – follow us on Twitter or Facebook, or check back here for the latest updates.
August 22 Service Change Preview:
MetroLink schedule will change to improve connections at the Forest Park-DeBaliviere MetroLink Station
All Missouri MetroBus routes will have minor changes to their schedules
#33 Dorsett-Lackland will no longer serve Warson Road and Link Road, and will instead serve Ashby Road to Midland Boulevard
#57X Clayton Road Express will be extended to serve St. Mary's Hospital via Oakland Avenue, Clayton Road, Dale Avenue and Big Bend Boulevard
#58 Clayton-West County will have minor route changes in downtown Clayton
In an effort to build a better transit experience, Metro transit constantly monitors and reviews feedback from passengers and operators. Every quarter, Metro uses this feedback and other data to improve MetroLink connections and MetroBus route performance.
Return to Blog
Categories:
System Changes