September 29, 2015
Metro regularly performs maintenance on the MetroLink light rail system to ensure the safe and reliable operation of the trains. An important component of the MetroLink maintenance plan focuses on the replacement of wooden railroad ties that support the tracks.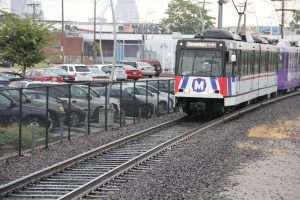 Railroad ties are a critical part of the MetroLink system, keeping rails upright and properly spaced, and transferring loads from the rails to the ballast and ground beneath them. The normal lifespan of a wooden rail tie is between 20 to 30 years, and some sections of our original MetroLink alignment are now more than 22 years old.
In order to replace the wooden ties, a section of MetroLink track must be shut down for a period of time, which is why you sometimes see construction alerts about how we're operating trains on a single track in certain areas. This allows a team of up to a dozen workers and specialized rail tie machines to work uninterrupted for eight hours during off-peak hours of the night and early morning. Sometimes, we're able to provide crews more time to do their work.
For example, during a scheduled MetroLink service disruption a few weeks ago, our crews made improvements to MetroLink's power system while MetroLink Station Shuttles were used to transport passengers by bus between our Delmar Loop and UMSL South MetroLink Stations. To take advantage of the already closed section of track and to maximize the additional time, our maintenance team, including our track contractor, also replaced wooden rail ties at the same time.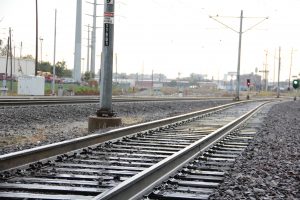 Turns out, the extra time paid off. During a standard eight-hour shift, crews can replace about 120 wooden rail ties. During this planned outage, crews were able to replace 1,200 wooden rail ties, which would normally take about two weeks of operating trains on a single track at night to replace.
"Our teams work very hard to minimize the impact of maintenance work to our riders, while at the same time ensuring we protect the investment the region has made in our transit system for years to come," said Ray Friem, Executive Director of Metro Transit. "During the planned service outage a few weekends ago to upgrade our system, our maintenance crews seized a unique opportunity and replaced nearly two weeks' worth of railroad ties in less than two days."
MetroLink started replacing wooden rail ties in 2012. Since then, they've replaced more than 26,000 wooden rail ties and expect to have replaced a total of 36,000 rail ties by the end of this year.
Return to Blog