Restoration 2010: Proposed Service Changes
Return to Blog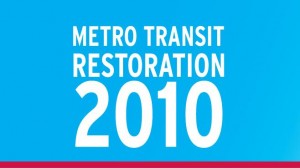 Drum roll please….here is the list of proposed transit service changes through the rest of 2010. The changes will come in three phases while we hire and train operator and procure more buses. Also, it allows for time for public comment and outreach.  Metro will be conducting public meetings and asking for feedback through May 10.
Next week, look for a post further examining the transit planning process during Restoration 2010, and how the events of the few years (service reductions, restorations, bus stop assessments, etc.) have allowed our planning department to better understand the transit market needs of the region. The transit service Metro will provide by the end of 2010 will look markedly different from that delivered in March 2009.  But its very important we receive input on the proposed changes and the needs of the community.
Please consider leaving us comments or attend one of the upcoming public meetings to let us know what you think.
(Scroll through the end of the presentation to see the proposed changes for specific routes.)
Return to Blog
Categories:
System Changes