Restoration 2010: We Need Your Input
Return to Blog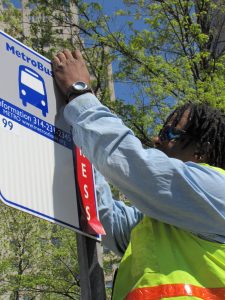 Starting last Wednesday morning, just hours after St. Louis County voters approved Proposition A, we started receiving calls about service restoration. Not surprisingly, many people who have lost service, sometimes even entire bus routes, are very interested in how Metro intends to keep up our promise to restore service.
So we need your input. Starting on Friday, Metro's planning department will be unveiling a schedule of proposed service enhancements.  We need your input to help determine the social, environmental and economic impact of the proposed changes. Every proposed change will be documented on the website for our long-range plan, Moving Transit Forward, and on Nextstop so you can continue the discussion.
In the meantime, you can tell us what you'd like to happen. Email comments/suggestions to: restoration2010@metrostlouis.org or leave a message at (314) 982-1400 ext. 3433.
The deadline for comments is close of business, Monday, May 10, 2010.
Metro will also host a series of informational public meetings to introduce proposed changes and solicit feedback. Please consider attending one of the following meetings:
April 27, 2010, 5:30pm – 7:30pm
Mehlville High School, Library
3200 Lemay Ferry Road
St Louis, MO 63125
MetroBus Access: 73
April 28, 2010, 3pm – 6pm
Riverview Transit Center
9000 Riverview
St. Louis, MO 63147
MetroBus Access: 16, 27, 36, 40, 41, 61, 90, 240X
May 4, 2010, 5:30pm – 7:30pm
St. Louis Community College at Florissant Valley, Multi Purpose Room
3400 Pershall Road
St. Louis, MO 63135
MetroBus Access: 36, 74
May 5, 2010, 3pm – 6pm
Ballas Transit Center
790 S. New Ballas Road
St. Louis, MO 63141
MetroBus Access: 49, 58, 98, 58X, 258
May 7, 2010, 12pm – 1:30pm
St. Louis City Hall, Kennedy Room
1200 North Tucker
St. Louis, MO 63102
Metro Access: 4, 10, 11, 13, 30, 32, 40, 40X, 41, 57, 58X, 59, 73,
74, 94, 97, 99, 174X, 240X, 410X, Civic Center MetroLink
Service restoration will begin June 2010.
Return to Blog
Categories:
System Changes