December 14, 2011
Rhythm & Rails Concert Series with FB Brass Band and Folk School of St. Louis: Station Schedule
Return to Blog
Last year, Metro was fortunate enough to host the first-ever 88.1 KDHX Presents Rhythm & Rails On-Board Concert Series with local musical groups Rough Shop and Pokey LaFarge and the South City Three. The sounds of guitars, banjos, upright basses and holiday songs filled one MetroLink car as the musicians and their riding audience crossed over the Mississippi River, through the tunnels under downtown St. Louis, and over the elevated tracks in the waning winter light. From what we could see, it was an amazing time had by all (especially families!) for only the cost of a MetroLink ticket or pass.
This year, we are very happy to welcome the FB Brass Band and the Folk School Syncopators to bring holiday cheers and the sounds of the St. Louis music scene to the Holiday Magic Train. FB Brass Band is a staple of St. Louis blues and funk, named the Best Jam/Funk Band in St. Louis 2011 by The Riverfront Times, and well-known for a hand-clapping, foot stomping good time wherever they play.
Founded in 2001, the Folk School of St. Louis is dedicated to renewing and expanding traditional music and the folk arts in St. Louis. Instructors and students from the Folk School are among the most celebrated musicians in St. Louis, and play instruments that reflect the rich history of traditional music. For their Sunday Rhythm & Rails performance, a select group of instructors and students called the Syncopators will perform a selection of traditional holiday music.
To see either show, use this schedule to catch the Holiday Magic Train featuring Rhythm & Rails performances: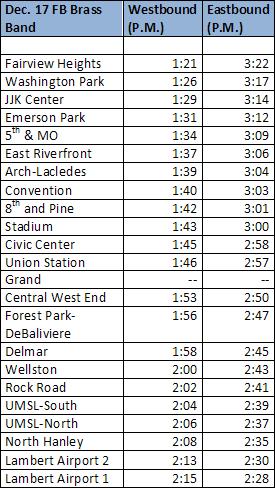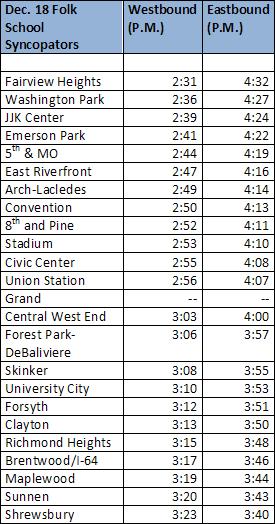 Check out the FB Brass Band in downtown St. Louis this summer, covering Michael Jackson's "I Want You Back":
Here the Folk School of St. Louis' Student Showcase at the Atomic Cowboy in 2011:
Return to Blog