September 4, 2018
Ribbons of Hope for Ferguson on Display at North County Transit Center
Return to Blog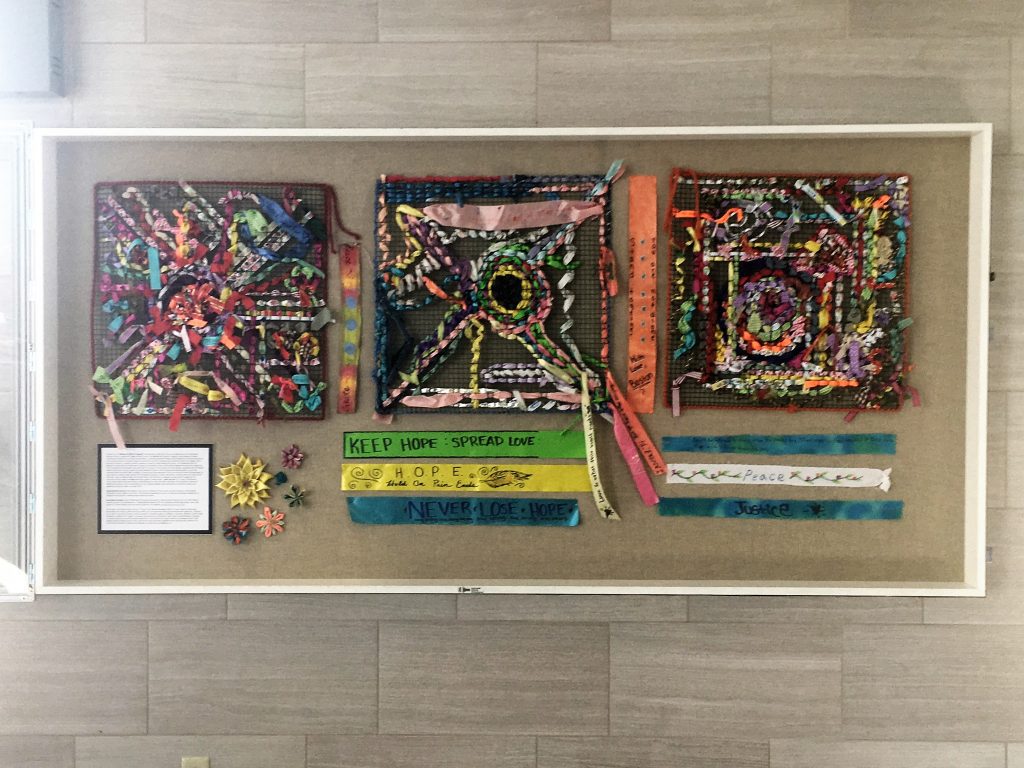 The Ferguson Farmers Market is a staple in the community and has become the event to access fresh food and wholesome fun for residents and guests alike. However, on August 14, 2014 – a week after the death of Michael Brown – the future of the market and its art programs were uncertain.
Art Therapist Dana Sebastian-Duncan of the Queen of Peace Center and co-founder/board member of the Northern Arts Council, had an idea to welcome fellow artists, visitors and everyone in the neighborhood back to the Ferguson Farmers Market by providing a creative outlet for the entire community to share their thoughts and feelings. She'd rely on the power of art.
"I gathered materials on-hand, including ribbon, Sharpies, and clipboards and created a simple directive," she said. "Ribbons of Hope for Ferguson asked people to write or draw on ribbons to express their vision of hope, their dreams, wishes or prayers for the future of Ferguson."
The art project would soon grow to include all sorts of expressions, gaining momentum and growing into a grassroots movement. As news about the project spread, Missouri Art Therapists and groups in other communities, including some as far away as Ohio, Wisconsin, Texas, Florida and New York, created ribbons and sent them to Ferguson, expressing their support for the community.
"It became a collaborative community arts project, inviting the people of Ferguson and beyond to look toward the future in a creative project and process," she said. "It also provided a 'safe place' for people to reflect, connect, commune and exchange dialogue."
One of the ribbons Sebastian-Duncan remembers was one of the first written for the project.
"The first message one teen wrote was, 'I hope my community can just get along again'," she said. "That simple message had an impact on me. It elicited authentic and meaningful conversation, and definitely inspired me to keep the project going."
A sampling of the Ribbons of Hope for Ferguson art project is now on display at the North County Transit Center.
"I hope riders will experience the art, read the messages and perhaps reflect on their own hopes, wishes, prayers and dreams of a better future, as we move forward, and come together as a community," Sebastian-Duncan said.
Return to Blog