January 6, 2022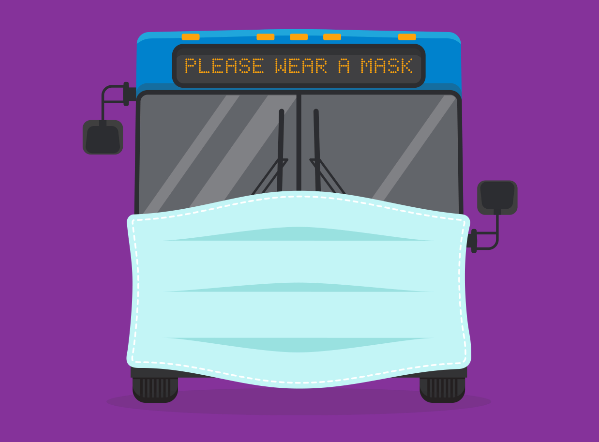 As COVID-19 cases in our region continue to rise, Metro Transit is here to get you where you need to go safely.
Masks or face coverings continue to be required for riders and team members when on MetroBus, MetroLink or Metro Call‑A‑Ride vehicles, and while at Metro Transit Centers and on MetroLink station platforms. Masks are required for individuals who are vaccinated against COVID-19 and those who are not vaccinated.
Riding Safely
Here are some reminders for riding safely with us:
Federal mandate requires everyone to wear a mask on Metro Transit. Please wear your face covering on MetroLink platforms, at Metro Transit Centers, or when riding on Metro vehicles.
Whenever possible, practice social distancing when on your vehicle or when waiting at your stop.
Wash your hands regularly, or use hand sanitizer, and don't ride if you are feeling ill.
Use the Transit app for a contactless fare. You can buy most MetroBus and MetroLink passes through the Transit app with our mobile fares option.
Stay updated on all service and operations updates in response to COVID-19 here: metrostlouis.org/health.
What We Are Doing
Since March 2020, we have made adjustments to transit operations and policies to protect our riders and team members, while continuing to provide transportation options for everyone throughout the region.
MetroBus, MetroLink and Metro Call‑A‑Ride vehicles are sanitized every night with disinfectants and cleaning agents that are CDC-approved to fight COVID-19, and we are using antimicrobial technology to dramatically reduce the spread of harmful bacteria and viruses on transit vehicles. Our team is also working throughout the day to clean high-touch surfaces on buses.
These are the steps we are taking to do our part in keeping our community healthy:
Enhanced cleaning & disinfecting of Metro facilities and vehicles.
Mask dispensers are available on all MetroBus and Metro Call‑A‑Ride vehicles in case you forgot yours or need a new one. Some team members also have masks available for MetroLink riders.
All riders must stand behind the orange or yellow line to maintain social distancing for our operators.
All Metro Transit and Bi-State Development employees must participate in a temperature screening before they begin work or operate Metro vehicles.
Educational signs and audio announcements on social distancing and wearing face coverings are in place throughout the transit system.
Return to Blog
Categories:
COVID-19