October 1, 2010
Riverfront Times Honors Transit Funding, #30 Soulard in "Best Of St. Louis" Issue
Return to Blog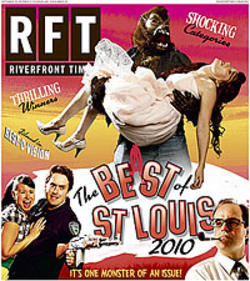 Every year, the St. Louis magazine The Riverfront Times puts out its "Best of St. Louis" issue that names the best of everything the area has to offer, from Best Fried Chicken to Best New Band to Best Public Works Project (the Great Streets Project on South Grand Boulevard, in case you're interested).  For 2010, RFT staff chose "Restoring Funding for Metro" the "Best Thing to Happen to St. Louis in 2010":
"…This past April Metro went back to county voters, this time with a structured plan for improving public transit while being better stewards of tax dollars. The plan included such smart practices as splitting routes to use fewer buses; eliminating large (and mostly empty) buses for smaller, more fuel-efficient vehicles; and creating more geographical hubs. County voters approved the half-cent sales tax — which in turn triggered a quarter-cent city sales tax. Order was restored. People who use Metro can once again get to their jobs and the grocery store, and St. Louis has a better transit agency for the long run."
The RFT also honored the neighborhood-skimming #30 Soulard MetroBus route with "Best Bus Route":
"It's north side and south side. It's raw and it's real. And trust us on this one: You'll never find a more comprehensive chauffeured tour of the Gateway City for just $2 a ride. Intrepid out-of-towners and long-time locals alike should take note."
Indeed! From Crown Candy Kitchen to Anheuser Busch Brewery, and St. Louis Park to Benton Park to Tower Grove Park…the #30 Soulard is a whirlwind tour of St. Louis' historical neighborhoods. It's quite the honor to be named Best Bus Route of St. Louis…will the other routes be jealous?
Big thanks to The Riverfront Times for recognizing Metro and transit in their "Best of St. Louis" issue. Many more exciting changes to come as we continue to move transit forward in St. Louis.
Return to Blog
Categories:
Metro Lifestyle