September 3, 2014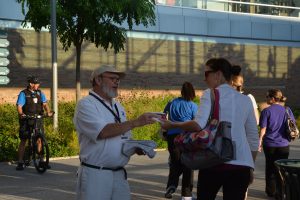 Emergencies, large or small, can happen at any time– at home, at work, at school, or while you're in transit. Are you prepared? Have you and your family talked about what to do if  a tornado hits when you are at work and your kids are at school or at home?
To help you better handle unexpected emergencies or disasters, Metro is partnering again this year with the local American Red Cross and AllReadySTL to educate our customers during Emergency Preparedness Month.
This morning, Metro ambassadors were stationed at several Metro transit locations giving passengers important information about emergency preparedness as well as entry forms for a drawing to win one of eight Red Cross Emergency Preparedness Kits.  If you didn't receive an entry form this morning, you can enter online. All entries are due by 5 p.m. on Friday,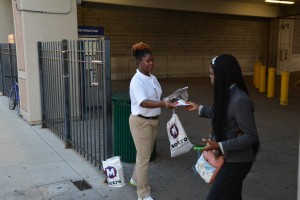 September 26. The winning names will be drawn on September 30. You may only enter once.
Metro ambassadors and Red Cross volunteers will be distributing emergency preparedness information again on September 18 at other Metro transit locations.
Buy or put together an emergency kit. Make a plan. Be informed. Those are the three key things you need to do to be prepared for any emergency. Both AllReadySTL and the Red Cross websites have more information about emergency preparedness including creating a family game plan.
Return to Blog