August 13, 2015
Shrewsbury MetroLink Station Kiss-and-Ride Area to Temporarily Close
Return to Blog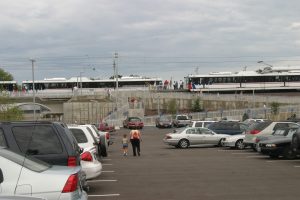 The Kiss-and-Ride drop-off area the Shrewsbury-Lansdowne I-44 MetroLink Station, which allows motorists to drop-off and pick-up Metro passengers at the station, will temporarily close beginning on Monday, Aug. 17.
The Kiss-and-Ride area is expected to be closed for approximately a week due to ongoing construction of a retaining wall at the station.
Drivers are encouraged to use the west entrance to enter the MetroLink station Park-Ride lot, and to drop-off and pick-up passengers on the west side of the station. Motorists should use caution, and be alert for pedestrians as well as flaggers and workers directing traffic in the construction area of the lot.
Return to Blog