April 9, 2013
SLU Parks College Aviation Fraternity Fundraises With A Plane Wash
Return to Blog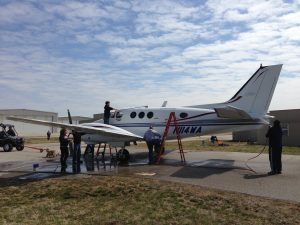 Car wash fundraiser? That's so 2012. The members of the Alpha Eta Rho Fraternity at  St. Louis University Park College of Engineering, Aviation and Technology took the common car wash to the next level with a plane wash at St. Louis Downtown Airport last month!
Alpha Eta Rho is a coed international professional college aviation fraternity. "Throughout the years Rho has given students an opportunity for academic growth, leadership skills, and networking connections in the aviation industry," said John Schaefer, Alpha Eta Rho – Pi Chapter President. "Many people across many aviation-related fields today are alums of Alpha Eta Rho."
The members of the Parks College Pi Chapter washed planes on March 23 to raise money to go to a national conference in Kalamazoo, Michigan.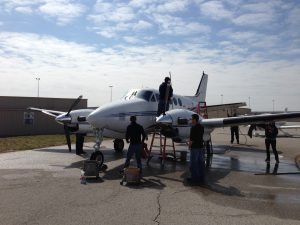 "We were raising funds to send 9 members of our 26-member chapter to the annual National Conference," said Schaefer. "At this conference, we have the chance to interact with other chapters from across the United States, as well as future employers."
The members washed single and multi-engine planes from 10 a.m. to 4 p.m. on March 23rd.
The fraternity members will take off for the national conference later this week.
Bi-State Development Agency/Metro owns and operates St. Louis Downtown Airport and surrounding industrial business park.
Return to Blog