April 17, 2014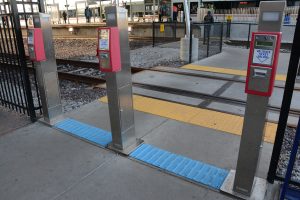 Metro's transition to a new smart card fare collection system is moving forward.   The hardware for MetroBus was installed last year.  More recently, Metro has installed smart card-ready equipment along the MetroLink alignment.
Beginning this summer, you could be one of the region's smart card pioneers, testing the system and getting it ready for use by the entire community.
Follow this link to complete a survey,  and you could be one of the first to receive Metro's smart card.  The survey will be used to make sure a broad range of customer groups are represented.   Metro will randomly select customers who are using products and services we need to test.  Smart card pilot participants will:
Continue to pay their own fares during the test period
Be entered into a drawing for a chance to win a monthly pass or another great prize
Identify issues that need to be resolved
Help bring this exciting new technology to the St. Louis region
Thank you for your interest in helping us test this new system. It's all part of building a better transit experience for you and for the region.
Return to Blog
Categories:
Metro Lifestyle