June 5, 2014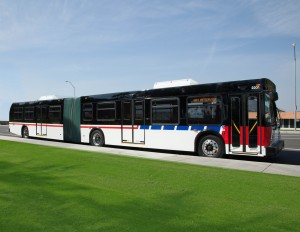 Tomorrow morning, Metro customers, the Grand Boulevard community, regional leaders and  the public will have the opportunity to get a close up look at the newest and biggest addition to the MetroBus fleet before those buses go into service on the #70 Grand Line June 9.
The special event, which starts at 10 a.m. at the Scott Avenue Transit Plaza at the Grand MetroLink Station, will highlight the 60-foot articulated buses which bend or pivot in the middle.
Speakers at the event will include: St. Louis Mayor Francis Slay;  St. Louis County Executive Charlie Dooley; Mokhtee Ahmad from the Federal Transit Administration; David Dietzel, Bi-State Development Agency Board of Commissioners Chairman; and John Nations, Bi-State Development Agency President & CEO.
Those interested in attending are encouraged to take MetroLink or the #70 Grand MetroBus route to the Grand MetroLink Station located below the Grand Boulevard Bridge.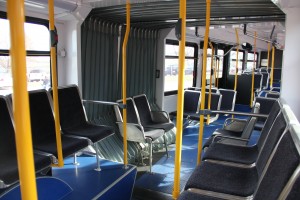 Metro transit purchased 15 used New Flyer articulated buses and commissioned Complete Coach Works to completely rebuild them so they are just like new buses. The larger capacity buses will help ease the overcrowding issues on the #70 Grand Line, which records the highest ridership of any MetroBus route with approximately 9,000 boardings each week day.
The 60-foot buses and can accommodate 25 percent more passengers than the buses currently in service on the #70 Grand Line. Each articulated bus has 54 seats and more room for standing passengers.
By the end of the year, all 15 articulated buses will have been delivered and will be in service. They will replace all of the 40-foot buses currently in service on the #70 Grand Line.
Additional articulated bus blogs:
Return to Blog
Categories:
Capital Projects