February 19, 2015
Special Metro Transit Pass for 2015 Missouri Valley Basketball Tournament
Return to Blog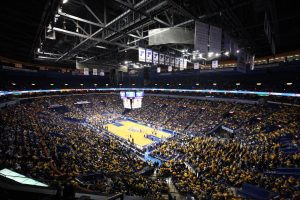 Metro transit is partnering with the Missouri Valley Conference (MVC) to offer the 2015 Men's Basketball Tournament MetroPass for fans attending this year's Arch Madness.
For $23.50, the special MetroPass provides unlimited rides on MetroLink, MetroBus and the #99 Downtown Trolley from March 4 to March 8. It's a great way to get to and from the tournament at the Scottrade Center, and also explore all of the attractions, restaurants and sights to see throughout the St. Louis metropolitan area.
Not only can you purchase it online, but you can buy it at the MetroStore located inside America's Center at 7th and Washington, and it will be available for purchase in the lobbies of several downtown St. Louis hotels.
The Civic Center MetroLink Station is conveniently located just south of the Scottrade Center, and is one of five MetroLink stations that serve downtown St. Louis (map). The Civic Center Station at 14th and Spruce Streets also connects with 18 MetroBus routes, making it Metro's busiest transit hub.
The MVC Men's Basketball Tournament — better known as Arch Madness —  has been held at the Scottrade Center location since 1995. The tournament is celebrating its 25th anniversary this year.
Return to Blog