May 21, 2015
Spend Less, Ride More with the Commuter Advantage Program
Return to Blog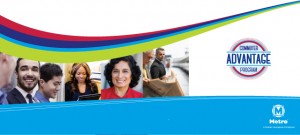 There are a lot of great benefits to riding Metro transit, and saving money on transportation costs is at the top of the list. In fact, did you know thousands of area workers are riding MetroLink and MetroBus at a reduced fare — or even for free? Tell your employer about the Commuter Advantage Program, and see if you can start saving on Metro transit.
The Commuter Advantage Program provides an easy way for businesses to subsidize or partially subsidize transit passes for their employees, or offer the cost of a pass on a pre-tax basis. With this benefit, you would be able to enjoy unlimited rides on MetroLink and MetroBus for free or at a reduced cost, while also saving money on vehicle expenses like fuel, maintenance and parking fees.
The program also makes sense for businesses. Employers can provide up to $130 per month to employees who commute to work using public transit, and they are able to deduct these costs as a business expense and save on payroll taxes, FICA, disability insurance and payments into 401(k) plans. With the Commuter Advantage Program, businesses are able to offer a more competitive benefits package to prospective and current employees and support their sustainability efforts (e.g., LEED certification), while also taking advantage of favorable tax treatment from the IRS.
"When an employer invests in public transit, they're providing another alternative for employees to more easily connect with their workplace," said Dianne Williams, vice president of marketing and communications for Metro transit. "They're also making a positive environmental impact and helping employees stretch the dollars they earn.'"
Getting started is as easy as picking up the phone. Encourage your employer to contact our marketing department at 314-982-1461, so your workplace can join more than 100 in the St. Louis-area that are already enjoying the benefits of the Commuter Advantage Program.
Return to Blog
Categories:
Transit Benefits