January 2, 2013
Spotlight on Homeland Security Procedures at St. Louis Downtown Airport
Return to Blog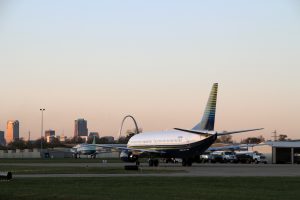 Written by Special Contributor Diane Earhart: Administrative Assistant at St. Louis Downtown Airport in Cahokia, Illinois
Herman Smith Jr. has been a Transportation Security Inspector (TSI) for the Transportation Security Administration (TSA), a branch of the Department of Homeland Security (DHS), since its creation after the September 11, 2001, terrorist attacks.  As an Inspector, Smith conducts oversight for numerous regulations that affect the general aviation operations at St. Louis Downtown Airport (CPS) in Cahokia, Illinois.
"We want to know what's going on around the airport, and we want users of the airport to know we're there," Smith said.  Smith's area of responsibility includes St. Louis Downtown Airport and all airports from the Springfield-Decatur, Illinois area south to Cairo, Illinois.  The team also assists other territories when increased personnel are needed.
St. Louis Downtown Airport is the third busiest airport in Illinois, following only Chicago O'Hare International (ORD) and Chicago Midway (MDW) Airports.  The amount of traffic and activity at the airport which is close to downtown St. Louis provides Smith ample opportunity "to see and be seen."
Another busy airport requiring special security considerations is Washington Reagan National Airport (DCA).  Approved corporate aircrafts can fly into DCA provided they depart from a "Gateway Airport" such as St. Louis Downtown Airport.  Special inspection requirements must be met before specific approval can be granted to specific airport operators in order to be so designated.  St. Louis Downtown Airport and Spirit of St. Louis Airport in Chesterfield are the only general aviation airports in the St. Louis region designated as Gateway Airports.  Ideal Aviation Illinois is the operator with Gateway Airport designation at St. Louis Downtown Airport.
"Even though Ideal was approved under the old ownership, we had to reapply when we took over Ideal Aviation," Ideal's new owner Bill Macon said.  "We had to have criminal background checks on our key employees who would have access to and be around the secure aircraft and passengers.  We had to implement a security program and basically satisfy all of TSA's requirements."
Back in April 2012, Luhr Bros., Inc. made the first direct flight from St. Louis Downtown Airport to Washington Reagan National Airport since before September 11, 2001.  The Cessna Citation jet owned by Luhr Bros. is based at St. Louis Downtown Airport.  Chief Pilot Mike Lobstein noted, "We are enjoying the fruits of our labor, [working on approval for] three years, to be able to fly directly to DCA from CPS.  Luhr Bros., Inc. is in its 35th year of continuous operation at this airport."
St. Louis Downtown Airport Director Bob McDaniel agreed.  "There was a lot of effort made by the airport, Ideal, and Inspector Smith to gain the Gateway Airport designation.  This designation is a great benefit to our pilots who would otherwise have to initiate their DCA flight at another airport."
The way it currently works is the day before a Gateway flight to DCA, Smith arrives at the airport to ensure all required paperwork is completed and to make preliminary checks of the aircraft.  Then on the day of the flight, TSA inspects the aircraft and the passengers.  "We want to make sure everyone is safe and secure to go into Washington National," said Smith.
In addition to overseeing Gateway flights, Smith has general oversight over flight school operations at the airport.  Following the creation of the Department of Homeland Security after September 11th, the Federal Aviation Administration (FAA) changed rules as they pertain to the flight training of students who are not U.S. citizens.  Specific requests for the student and specific flight instructor must be made to the TSA, and at St. Louis Downtown Airport those requests are processed by Smith.  "FAA  regulates adherence to flight training rules and general aviation regulations; the TSA regulates the security piece of flight training," Smith pointed out, adding, "TSA is primarily about security, whereas FAA is primarily about safety."
Smith works closely with the aviation businesses at St. Louis Downtown Airport and with McDaniel.  "We are lucky to have such a security-conscious and dedicated TSA Inspector supporting our airport.  Inspector Smith's procedures ensure that every pilot who is based at Downtown Airport and itinerant pilots alike all benefit to have the use of a secure and safe airport," said McDaniel.
Metro (Bi-State Development Agency) owns and operates St. Louis Downtown Airport and surrounding industrial business park. 
Return to Blog