October 20, 2015
Spruce Street Entrance to Stadium Station Closed for Several Months
Return to Blog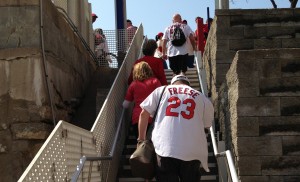 The south entrance of the Stadium MetroLink Station is temporarily closed to accommodate for reconstruction of the Spruce Street Bridge.
The south entrance from Spruce Street was shut down earlier today (October 20) and will remain closed for several months so work can begin to demolish the old Spruce Street Bridge and to construct the new bridge. During the temporary closure of the Spruce Street station entrance, MetroLink passengers will need to use the stairs and ramps on Clark Avenue at the north end of the station to access the station platform.
Built in 1935, the Spruce Street Bridge is about 36 feet long and needs to be completely replaced to address age-related structural issues. Bi-State Development acquired the bridge as part of the transportation infrastructure it received as part of opening the MetroLink light rail system in 1993.
To minimize the impact on MetroLink passengers, the bridge project is scheduled to take place during the St. Louis Cardinals offseason and when ridership is normally lower during the winter months. Thousands of baseball fans and stadium workers access Busch Stadium via the Stadium MetroLink Station during the baseball season every year.
The Spruce Street Bridge, as well as the south entrance to the Stadium MetroLink Station, are expected to reopen prior to the 2016 Cardinals home opener next April.
Return to Blog