August 10, 2015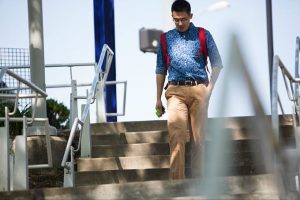 Students at St. Louis Community College already enjoy the benefits of a quality, affordable education. Now they can look forward to adding another benefit to the list – the Metro U-Pass.
Starting this fall, credit students at St. Louis Community College will be able to take advantage of the U-Pass program and receive unlimited use of MetroBus and MetroLink each semester. Students enrolled in at least one credit hour and who have paid fees for a credit class are eligible. The U-Pass is paid for through the college activity fee and comes at no additional cost.
"Transportation and accessibility can be substantial barriers for anyone pursuing an education," said John Nations, President and CEO of Bi-State Development. "When institutions like St. Louis Community College invest in public transit, they help tear down these roadblocks and open the doors to greater opportunities for their students."
St. Louis Community College's U-Pass will be available at campus locations throughout the region, starting the first day of the semester. Students must have a valid St. Louis Community College identification card to receive their pass.
St. Louis Community College joins several other local colleges and universities in Metro's U-Pass Program, including Washington University, Southwestern Illinois College, University of Missouri–St. Louis and Webster University.
Return to Blog