January 23, 2013
St. Louis County Man Sells Car, Reflects On 1,000 Days Without It
Return to Blog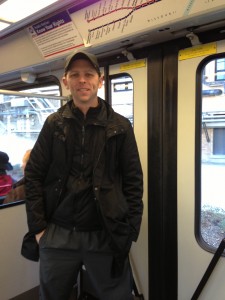 Did you drive your car today? More importantly, did you HAVE to use your car today?
David Ziolkowski is a Senior Architectural Lighting Designer with HOK Lighting Group, a lighting design team based in St. Louis. He, his wife and two children live in the St. Louis area. Seems pretty typical so far, right?
Well, on Earth Day in 2010, David made the commitment to sustainability by selling his car. David reflected on commuting without a car in a blog post last month and I met David one cold January morning during his commute to hear his story.
He said it all actually started  in 2009 when his family was looking to buy a new house. "Part of my criteria for a home purchase was to live within one mile of a MetroLink station and within a quarter mile of a bus stop.  We came across a property that just barely met those specifications.  We bought it, moved in, and I sold my car."
David bikes or walks to the Brentwood MetroLink Station each morning. (For those interested in making a smaller, but still impactful change, there is a free Park-Ride garage at that station.)
David found it helpful to switch his gym location as well. "After switching houses and selling my car, changing gyms was a very easy transformation.  I found one that is literally attached to the parking garage of a different train station.  In the winter, this gym allows me to get in a good run without adding any extra commuting time.  In the summer, Forest Park (another stop on the MetroLink) is my home for running."
So, once all the pieces were in line, David told me getting into a routine was easy. The Lou's four seasons make wearing the right clothes during the commute important. David said he layers up during the winter, and commutes in shorts in the summer. He keeps clothes at the office to change into once he gets to work.
"Part of the reason I did the blog was to let my coworkers know why I'm always coming in and leaving dressed like this (References his workout gear)."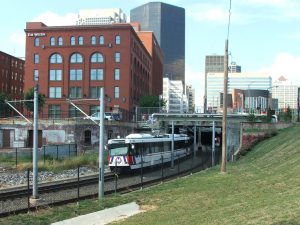 Sitting on the train, David told me the main change in his life has been time. "It takes more time to get places using Metro or biking. But it has also given time back to me. With two young kids, I don't have a lot of time to myself and my time on the train is my time to read a book or nap."
"You don't need to pay attention to driving and you aren't just stuck in traffic fumes," David said.
In addition to more "me time," taking public transit has saved David a "bundle." His employer pays for 25 percent of his pass, and he no longer has the expenses of gas, car insurance, parking and maintenance. (Calculate what you would save on gas alone.)
Even though David's wife still uses a car, he plans to introduce the world of public transportation to his children. He has already taken his oldest son on MetroLink to Cardinal games and said he feels completely safe doing so. "I take the train all the time and always feel safe. At 11 at night, I may move up to the front car near the operator but I still don't feel threatened."
As an avid cyclist, one thing David said he would like to see is more place for bikes on the train. "The rules are pretty tough …It may help to take out a few rows of seats and have a section for bikes. Not on all trains and cars, but a few. You could label them outside the train so you know where to get on."
In addition to MetroLink, David uses MetroBus, and Enterprise Car Rental's downtown WeCar hybrid car sharing program.
Are you thinking of changing your commuting habits? David's tip is stay committed. "If you want to just try it, be committed. Don't make excuses like 'oh, I have this appointment or that plan.' You need to make the commitment to not use your car and find a plan that fits you. It's really easy once you commit."
Return to Blog