March 9, 2011
Survey Results: Readers Tell Us How to Encourage More People to Ride MetroBus
Return to Blog
We asked NextStop readers and Metro Facebook follows to answer a short survey on how to encourage more people to ride MetroBus, based on a series of blog comments and interest in the topic.  We had amazing participation, with over 214 responses.  In addition, responders submitted nearly 200 write-in responses to Questions 3 and 4.  The information collected by the survey provides an invaluable snapshot of what interested readers (most of whom ride transit) feel about increasing bus ridership.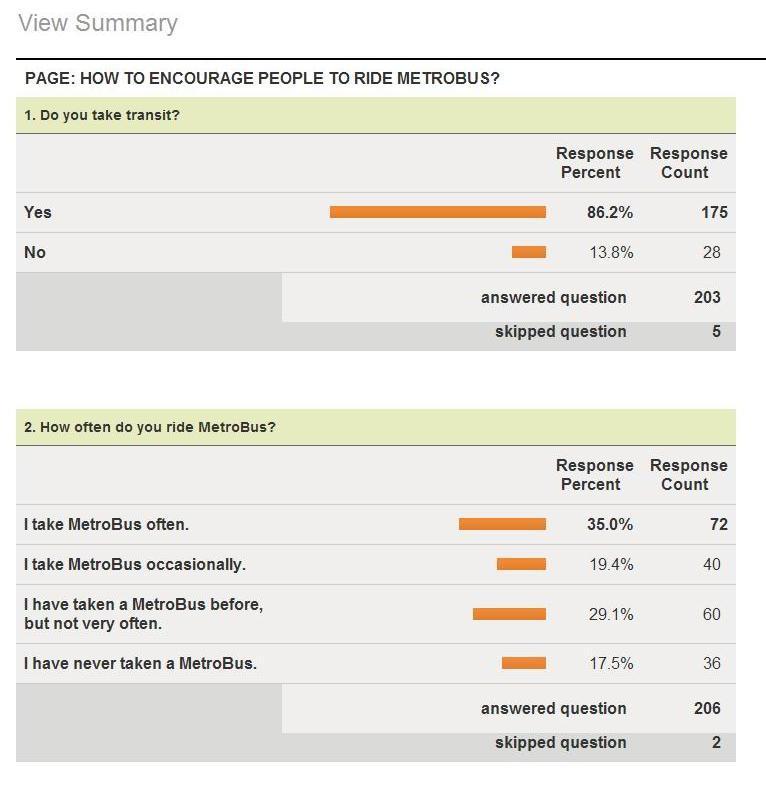 Most responders were transit riders, and represented frequent MetroBus riders, those who take buses less frequently or those who have never ridden.  Among the answers provided for Question 3, people most often cited an unfamiliarity with bus routes or the belief that the trip will take too long, with a number of people also choosing concerns about reliability or unsureness of where the bus will stop.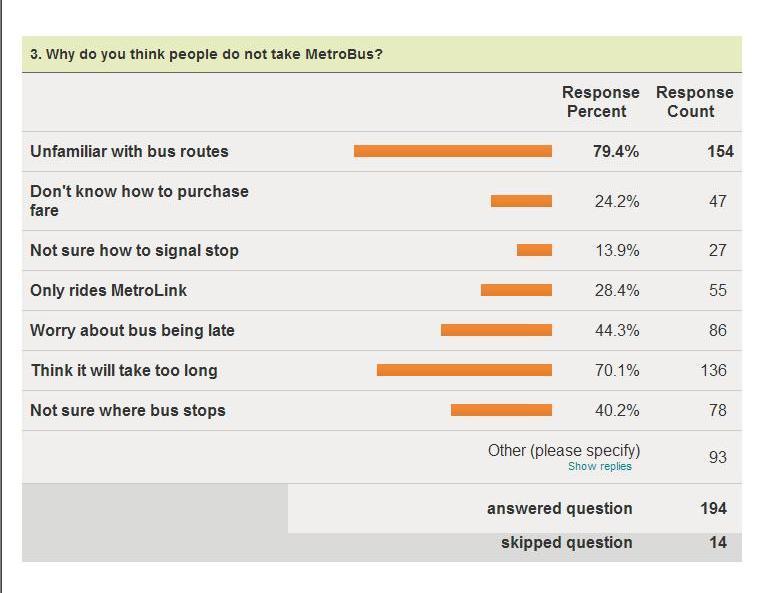 In addition to the answers provided, participants also submitted a large number of write-in responses for Questions 3 and 4. Categorized according to type, readers submitted more than 30 replies, each regarding convenience and concerns about safety and security.  Answers also included 17 mentions of social stigma as a reason why people do not ride MetroBus. Other write-in answers emphasized potential problems with frequency of buses, fare price, bus driver courtesy, and lack of information on bus stop signs and shelters.
"People do not know how to use it mainly because they do not know the routes. Public transit also suffers from a image problem since a lot of middle to upper class individuals do not want to be associated with the lower class. Market it as clean, affordable, and easy to use."

"Negative perceptions about public transportation.   Many believe buses do not service where they live and/or work.  They feel they can get to their destinations quicker by driving their vehicles.  Motorists do not respect for public transportation because St. Louis is a car city.  Security is a huge factor."
Question 4 asked participants to determine the best methods to encourage or educate people to ride MetroBus.  Responders most commonly suggested a mobile site for bus routes and scheduling, but information on MetroLink and public outreach also were popular answers.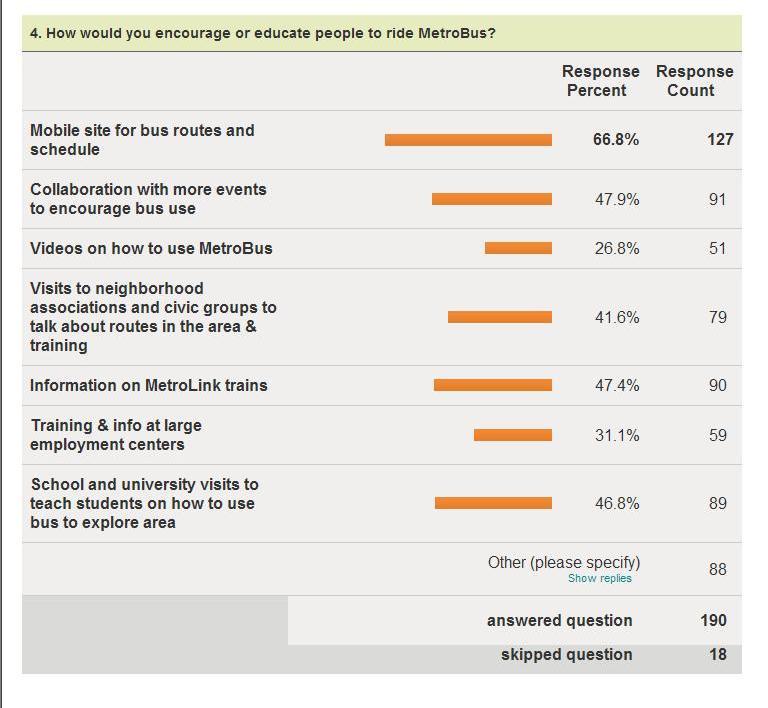 Almost 90 responders submitted write-in ideas for helping to promote MetroBus use.  Write-in responses most commonly mentioned bus signage, with route and schedule information on stops, benches and shelters, as a means to get more people to try the bus.
"Route maps at many stops and on ALL BUSES. At least put a printed system map in each bus shelter. Times, those are somewhat optional, but at least a map showing how to get there from here."
Many people also wrote in about how to use technology to improve the convenience of riding the bus:
"Give me a site where I can plug in the stop # and get the next bus arrival."

"Better marking at signs as to where bus routes go, when they stop, etc. Most signs presently only say MetroBus and a route number–completely pointless information for a novice rider. Large, detailed marking of stops, with limited route maps and timetables, or at the very least a listing of what destinations are serviced by this stop, would go a long way in getting people to ride the bus on the spot, instead of having to plan out an entire route beforehand.  People are also afraid that they will be late–realtime mobile tracking of buses, or at least a smartphone app with schedules and routes, would give riders peace of mind."
Other common answers included increasing the frequency of buses, creating special routes or shuttle routes that take people directly to major events, working with businesses to include public transit information, improving security and customer interface, and working with local universities to better integrate MetroBus service into student transportation.
Thank you for your time, your input and your comments.  The survey information, including all written responses, will be submitted to Metro management for review and consideration.  Your participation and responses are very important in understanding what is important to Metro riders and potential riders.
What surveys would you like to see in the future?
Return to Blog
Categories:
Capital Projects
,
Metro Lifestyle