April 14, 2016
With the recent opening of the North County Transit Center and the introduction of a new MetroBus service plan for North St. Louis County, there are a number of new MetroBus routes operating in the region. Over the next several weeks, we'll take a quick tour of each of these routes so you can get acquainted with these new transit options and see all the places you can go with Metro.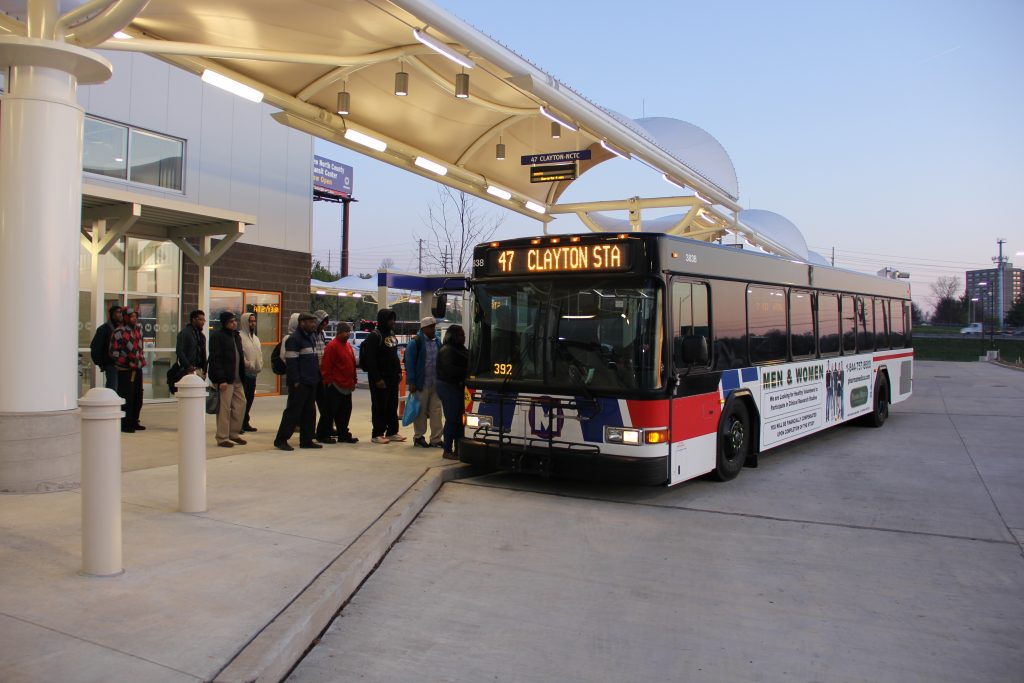 #47 Clayton NCTC
The new #47 Clayton NCTC MetroBus route provides important connections to major employment centers, education and transit hubs in the region, so it's no surprise that the #47 is one of the more popular MetroBus routes from the North County Transit Center in Ferguson.
Once it leaves the new transit center, the bus makes quick work of Interstate 270 and Interstate 170 to reach the NorthPark business park, a site that currently includes more than 1.2 million square feet of development with 11 businesses, including the corporate campus of Express Scripts.
The next major stop for the #47 Clayton NCTC is the North Hanley MetroLink Station, where many passengers get off the bus to make connections to MetroLink or 11 other MetroBus routes, while many others hop on board to reach schools and businesses further down the line.
After leaving the North Hanley Station, the #47 Clayton NCTC bus heads into the residential neighborhoods of Bel-Ridge, Hanley Hills and Vinita Terrace. As it continues toward downtown Clayton, it picks up students on their way to nearby schools, like University City High School.
This is where Valerie boards the #47 Clayton NCTC. She's been commuting on MetroBus for about a year now and relies on Metro to get her to Washington University where she works.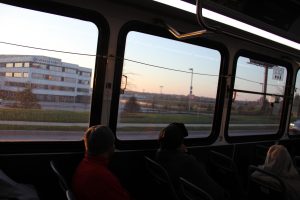 "It's very convenient," she said. "I'm able to look out the window and 'defrag.' I try to not stare at my phone while I'm riding. Eight hours on the computer is more than enough."
Valerie cited several benefits to riding, including cost-saving factors such as not having to pay for gas, maintenance and insurance. Plus, as an employee of Washington University, she is able to take advantage of the U-Pass program and ride Metro transit free of charge.
Valerie and other passengers start to trickle out at various points in downtown Clayton as the #47 Clayton NCTC reaches the end of the line at the Clayton Transit Center, which is located next to the Clayton MetroLink Station. Here, passengers can connect with Blue Line MetroLink service and five other MetroBus routes that serve the transit center.
After a quick break, the #47 Clayton NCTC starts its trek northbound leaving the urban core of downtown Clayton and easing into North St. Louis County neighborhoods. The #47 Clayton NCTC makes an important stop on its return trip at the North Hanley MetroLink Station, then the bus travels down Interstates 70, 170 and 270 to quickly get students to the Florissant Valley campus of St. Louis Community College.
It's a short trip east on Pershall Road to the new North County Transit Center, where the #47 Clayton NCTC pulls in and gets ready to do it all over again.
To plan your trip on the #47 Clayton NCTC (or on MetroLink or any MetroBus route) download the Metro On The Go app to your mobile device, use our online Trip Planner or contact Metro Transit Information at 314-231-2345 or 618-271-2345, Monday through Friday from 7:30 a.m. to 4:30 p.m.
Return to Blog