June 4, 2014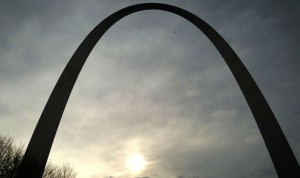 If you are thinking about visiting the Gateway Arch or other downtown St. Louis destinations this weekend, you might want to take Metro to avoid the traffic from the temporary closure of the depressed lanes.
Starting at 8 p.m. Friday night, Interstate 44 between the Poplar Street Bridge and Broadway will be completely shut down to accommodate crews working on the 2015 CityArchRiver Park Over the Highway project.  The interstate is expected to reopen by 5 a.m. on Monday (June 9.)
Detour routes will be in place. That information is on the Gateway Arch website. If you are going up in the Gateway Arch or on a riverboat cruise Saturday or Sunday, you can avoid the detour and take MetroLink to the Arch-Laclede's Landing MetroLink Station or the #99 Downtown Trolley to get to the Arch grounds.  Whether you take transit or drive yourself, just remember to allow extra time for your visit to the Arch grounds and St. Louis Riverfront this weekend.
In addition to the Interstate 44 closure downtown, the Eads Bridge will also be closed from 8 p.m. Friday night to 5 a.m. Monday (June 9) to allow interstate detoured traffic to move more smoothly.
To plan your trip downtown on Metro, use our Trip Planner tool.
Return to Blog