March 11, 2013
Take Metro to Either Major St. Patrick's Day Parades in St. Louis This Weekend
Return to Blog
The weekend weather forecast looks good for St. Louis' two largest and very popular St. Patrick's Day parades. Public transportation is a great way to avoid traffic jams and parking issues if you are heading to either the St. Patrick's Day Parade in Downtown St. Louis on Saturday (March 16), or the Ancient Order of Hibernians St. Patrick's Day Parade in Dogtown on Sunday (March 17).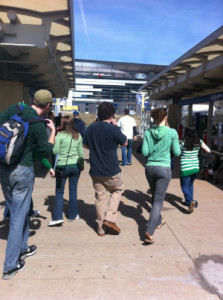 St. Patrick's Day Parade in Downtown St. Louis
The St. Patrick's Parade in Downtown St. Louis is one of the nation's largest and most attended parades. It begins at 11:30 a.m. Saturday. MetroLink provides a traffic-free route right to the parade. Exit MetroLink at the Union Station, Civic Center, 8th and Pine, Stadium or Convention Center MetroLink Stations to reach the parade route along Market Street.
MetroLink will operate a regular Saturday schedule and MetroLink supervisors will  assist customers at key downtown stations. MetroLink will also monitor the size of the crowds and will be ready to put extra trains in service, as necessary. Reminder, no alcohol is permitted on Metro property or on Metro vehicles.
MetroBus is also a great way to get to the parade. Civic Center MetroLink Station serves 13 routes on Saturday from all over St. Louis City and St. Louis County and the #70 Grand will serve the Union Station MetroLink Station. See our Rider Alerts for reroutes around the parade route. Many MetroBus routes will drop you just a couple blocks from the parade route, and that's another great reason to leave the car at home, save gas money and parking fees.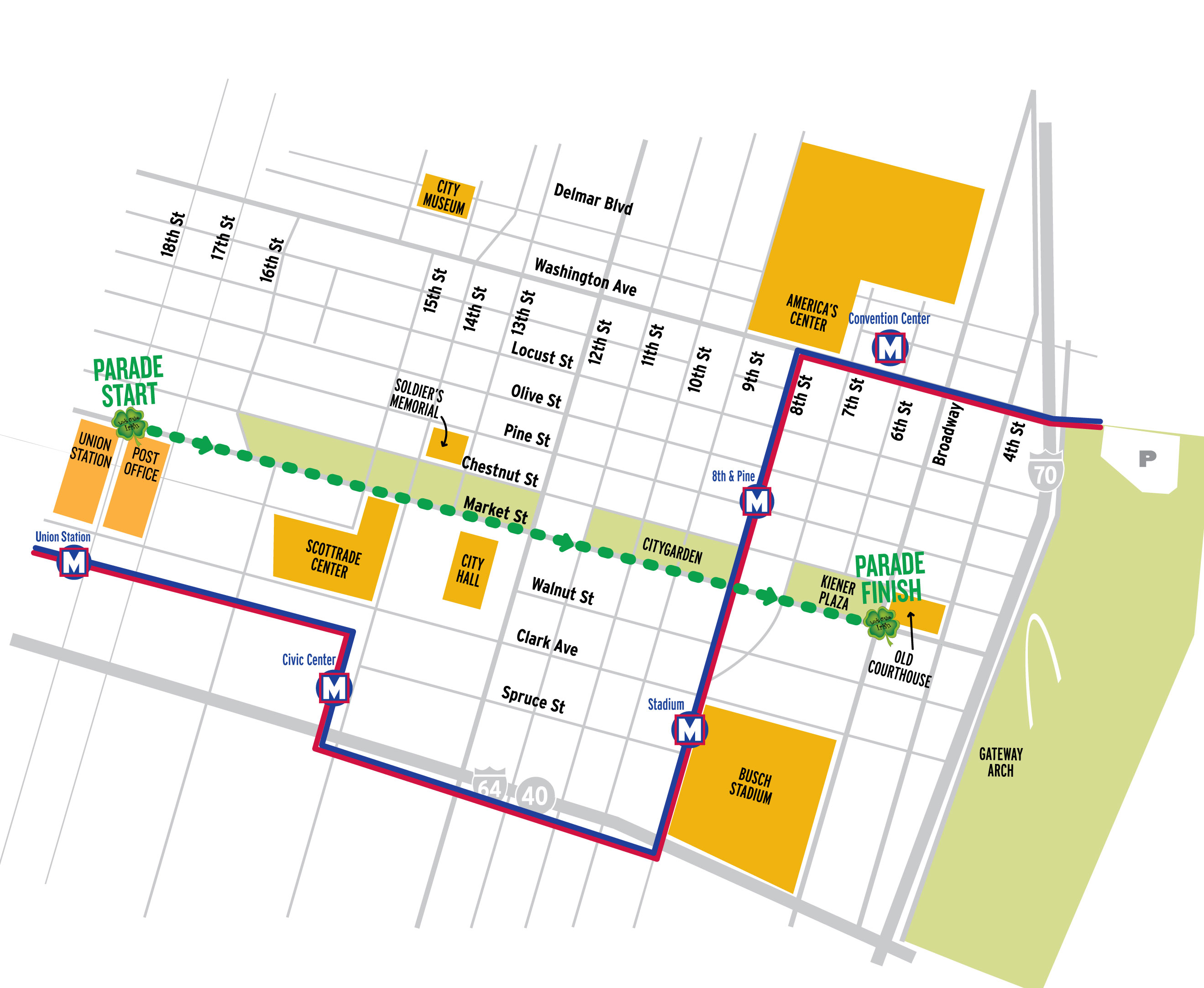 The St. Patrick's Day Run also takes place on Saturday. Runners will take their mark at  9 a.m., at Broadway and Walnut. The run which ends at Kiener Plaza at 11 a.m. will cause reroutes for the #32, #40, #41, #74, #94, and #99.
Hibernian St. Patrick's Day Parade in Dogtown neighborhood in St. Louis
The Ancient Order of Hibernians parade was created in 1984 to highlight the many contributions of the Irish people to America. There will be over 100 units featuring floats galore highlighting Irish dancing and salutes to Irish history and culture in Dogtown. The parade begins at 12:30 p.m. Sunday at Tamm & Oakland and ends at Tamm & Manchester.
MetroBus is a great option to reach the Dogtown neighborhood and to avoid parking. Take the #32 to Manchester and Tamm stop, and walk a half a mile north to the intersection of Clayton and Tamm.
Be advised that the #59 Dogtown and #90 Hampton which normally serve that area will be on reroute from 9:30 a.m. to 5:00 p.m. on Sunday. Due to the #90 reroute, Metro will supplement service in Forest Park with a special shuttle.
Biking is also a great way to reach either of these parade locations. Be sure to be careful of traffic conditions, and use a good bike lock to safely park your bicycle.
Have a happy and safe St. Patrick's Day weekend!
Return to Blog
Categories:
Metro Lifestyle
,
Technology
,
Transit Benefits