December 30, 2014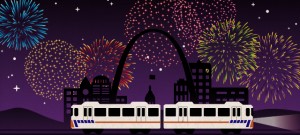 Update: Grand Center Inc. updated its shuttle service schedule.
Welcome the New Year with a bit of music and fireworks by attending this year's First Night celebration at Grand Center.
Tomorrow (Dec. 31) from 6 p.m. to midnight, you can enjoy more than 40 performances at 11 venues, two free firework displays and free outdoor shows throughout the evening.
Grand Center will provide a shuttle service from our Grand MetroLink Station to the First Night shuttle stop at the Scottish Rite Auditorium on Lindell west of Grand Boulevard. It will run every 15-30 minutes from 5:30 p.m. with the last bus departing from First Night at 11:30 p.m. If you arrive before the shuttle service starts, you can take the #70 Grand to the First Night shuttle stop at Grand Center. Regular Metro tickets, passes, transfers and cash fares will be accepted. Validated Metro tickets or passes are required to ride MetroLink.
MetroLink will operate on a regular weekday schedule on New Year's Eve, so please plan accordingly.
The #70 Grand will be on reroute from the beginning of service on tomorrow (Dec. 31) until 6 a.m. on Thursday. Reroute information is subject to change. You will find the most up-to-date information regarding the #70 Grand, on our Rider Alert page.
New Year's Day
MetroBus and MetroLink will operate on a Sunday schedule on Thursday, Jan. 1. Keep in mind, there will be several reroutes in downtown St. Louis on New Year's Day due to the Commitment Day Run, which begins at 10 a.m. MetroBus routes impacted by the race include the:  #4 Natural Bridge, #10 Gravois Lindell, #30 Soulard, #32  Soulard, #32 ML King-Chouteau, #41 Lee, #74 Florissant, #94 Page and the #97 Delmar.
Return to Blog