April 10, 2015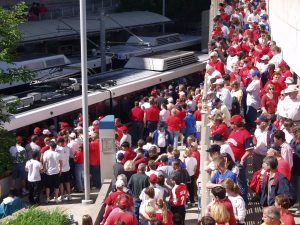 With the recent thunderstorms, it's clear that spring is here, and we can't think of a better way to celebrate spring than Opening Day for the St. Louis Cardinals.
If you're able to sneak out of the office early or lucky enough to have the day off Monday, April 13, let us be the ones to get you to the Home Opener festivities. Since the day game takes place on a work day, parking in downtown St. Louis will be challenging so the best bet for Redbird fans (or Milwaukee Brewers fans) is to take MetroLink or MetroBus to one of the MetroLink Stations in downtown St. Louis.
Baseball fans can use one of our 20 free Park-Ride lots located at MetroLink stations in both Missouri and Illinois, and take the train to the Stadium MetroLink Station or one of the other downtown MetroLink stations to join in on the rallies or to dine before the game. Some of the Park-Ride lots are expected to be filled up early, especially the Shrewsbury-Lansdowne I-44 and North Hanley MetroLink Stations, so you are urged to think about parking at one of the other less crowded Park-Ride lots or garages.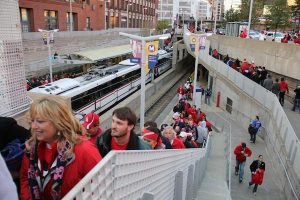 There will be extra security and additional staff members on the MetroLink system Monday to assist baseball fans headed downtown. Extra trains will be added, as needed.
Fans who want to take MetroBus downtown, can plan their trips using our Trip Planner.
In addition to MetroLink and MetroBus routes getting fans to downtown St. Louis, the Redbird Express will resume operations Monday. The first Redbird Express leaves from the Water Tower at St. Clair Square in Fairview Heights, Ill. two and half hours before the game with service every 3 to 5 minutes. On Monday, the Redbird Express buses will begin running at noon.  More information about the Redbird Express service can be found on the St. Clair County Transit District website.
Return to Blog