March 1, 2016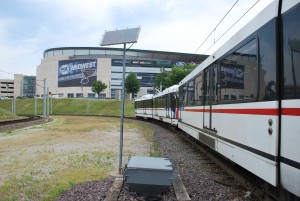 The first day of spring happens later this month, and just like the weather, the St. Louis event calendar is heating up.
The Missouri Valley Conference kicks off its three-day Arch Madness college basketball tournament on March 3 at the Scottrade Center. For $23.50, the special five-day MetroPass will provide unlimited rides on MetroLink, MetroBus and the #99 Downtown Trolley for guests attending the tournament. Later in the month, the 2016 NCAA Division I Men's Basketball Championship First/Second Rounds will take place at Scottrade Center on March 18 and March 20. A concert by The Who on March 25, followed by a performance by Barry Manilow  on March 31 will round out the month at the Scottrade Center.
American singer-songwriter Bryson Tiller will kick off the month of March at the Pageant on March 8. The next day, Dutch electronic music produce Oliver Heldens will perform. Toward the end of the month, American R&B singer, songwriter and producer Tank will perform on March 23, followed by Canadian producer and DJ Excision on March 24.
American blues singer, songwriter and slide guitar player Bonnie Raitt will bring her In Deep Tour to the Peabody Opera House on March 18. Her North American Tour will feature her longtime touring band.
Avoid construction, traffic jams and the hassles of finding (and paying for) parking by taking Metro. Leave your vehicle at any one of 21 free Metro Park-Ride lots in Missouri and Illinois and take MetroLink to the Civic Center MetroLink Station (just steps from the Peabody Opera House and Scottrade Center) or the Delmar Loop MetroLink Station (near The Pageant).
You can also hop on MetroBus to get downtown or to the Delmar Loop. The Civic Center Transit Center, located at the intersection of 14th and Spruce Streets just south of the Scottrade Center, serves more than a dozen MetroBus routes. The Delmar Loop MetroLink Station serves five MetroBus routes. To plan your trip on public transit, use our handy Trip Planner.
Return to Blog