May 5, 2015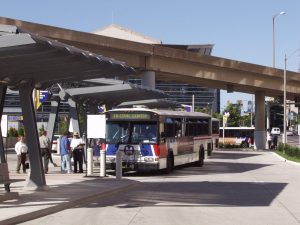 It's a busy month for the music scene in St. Louis. There are several big name acts coming into town this May, and Metro is the perfect way to get to the show.
Headliners performing at Scottrade Center this month include: Kenny Chesney (May 6), Ed Sheeran (May 10), Rush (May 14), Nitro Circus Live (May 19), New Kids on the Block featuring TLC and Nelly (May 22) and Charlie Wilson (May 31). The Who's Thursday night concert at Scottrade Center is postponed.
Avoid construction, traffic jams and the hassles of finding a parking spot by taking Metro. Leave your vehicle at any of our 20 free Metro Park-Ride lots in Missouri and Illinois, and take MetroLink to the Civic Center MetroLink Station (just steps from the Scottrade Center) or one of the other four MetroLink stations in downtown St. Louis.
Concert-goers can also hop on MetroBus to get downtown. The Civic Center Transit Center, located at the intersection of 14th and Spruce Streets just outside of the Scottrade Center, serves more than a dozen MetroBus routes. To plan your trip on public transit, use our handy Trip Planner tool or download our official mobile app, Metro On The Go.
Return to Blog