June 5, 2015
Take Metro to See Seth Meyers, Imagine Dragons and More
Return to Blog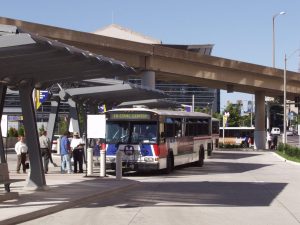 Summer is here and that means a lot of fun things are happening in downtown St. Louis, including concerts and shows. Start your festivities off the right way and let Metro get you to the excitement.
Seth Meyers, the current host of "Late Night with Seth Meyers," will be at the Peabody Opera House tonight. Later in the month, well-known comedy recording artist "Weird Al" Yankovic will bring his The Mandatory World Tour to the venue June 28. Next door, Imagine Dragons will bring their Smoke and Mirrors tour to the Scottrade Center June 12. On June 19, two of the most recognizable fighters in combat sports – Kimbo Slice and "The World's Most Dangerous Man," Ken Shamrock – will battle in the Bellator cage at Scottrade Center.
Avoid construction, traffic jams and the hassles of finding a parking spot by taking Metro. Leave your vehicle at any of our 20 free Metro Park-Ride lots in Missouri and Illinois, and take MetroLink to the Civic Center MetroLink Station (just steps from the Scottrade Center) or one of the other four MetroLink stations in downtown St. Louis.
You can also hop on MetroBus to get downtown. The Civic Center Transit Center, located at the intersection of 14th and Spruce Streets just outside of the Scottrade Center, serves more than a dozen MetroBus routes. To plan your trip on public transit, use our handy Trip Planner tool or download our official mobile app, Metro On The Go.
Return to Blog