January 4, 2016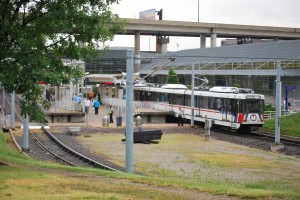 The new year is here, and so are a nice variety of activities around town for you and your family to enjoy. Kick off 2016 the right way and use Metro to get to your favorite January attractions.
Stand-up comedian Patton Oswalt kick starts the year with a bit of humor at The Pageant on January 8. St. Louis' very own rock band, Story of the Year, performs the next week on January 16.  Canadian singer-songwriter Dallas Green brings City and Colour to The Pageant on January 26. That same week, DJ Carnage will perform on January 28 and Railroad Earth wraps up the month on January 29.
Interested in comic books? Superheroes? Marvel Universe LIVE! is taking the live entertainment experience to a whole new level. Watch your favorite Marvel Superheroes, including Spider-Man, Iron Man, the Hulk and more come to life at the Scottrade Center January 8 to January 10.
Elmo, Grover, Abby Cadabby and their Sesame Street friends will visit the Peabody Opera House January 22 to January 24. The Tony Award-winning Broadway musical Million Dollar Quartet will bring the sounds of Johnny Cash, Carl Perkins, Jerry Lee Lewis and Elvis Presley center stage at the Peabody on January 30.
Avoid construction, traffic jams and the hassles of finding a parking spot by taking Metro. Leave your vehicle at any of our 21 free Metro Park-Ride lots in Missouri and Illinois and take MetroLink to the Civic Center MetroLink Station (just steps from the Peabody Opera House and Scottrade Center) or the Delmar Loop MetroLink Station (near The Pageant).
You can also hop on MetroBus to get downtown or to the Delmar Loop. The Civic Center Transit Center, located at the intersection of 14th and Spruce Streets just south of the Scottrade Center, serves more than a dozen MetroBus routes. The Delmar Loop MetroLink Station serves five MetroBus routes. To plan your trip on public transit, use our handy Trip Planner.
Return to Blog