September 1, 2015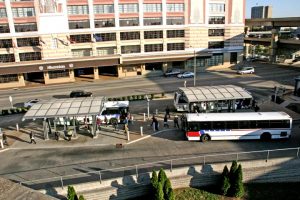 Sure, summer break may be over for some of you, but that doesn't mean the fun ends. In fact, September is shaping up to be quite the month for concerts in the St. Louis region. Start your journey to the front row the right way and let Metro get you to the excitement.
The American indie rock band Modest Mouse brings their sold out concert to The Pageant tomorrow, Sept. 2. Other big name acts playing at The Pageant include American rock band O.A.R (Sept. 11) and everyone's favorite Jonas Brother, Nick Jonas, who performs Sept. 15.
The Rob Thomas concert, originally scheduled for July 15 at the Peabody Opera House, has been rescheduled for 7:30 p.m. on Friday, Sept. 4. Next door, American singer-songwriter Taylor Swift will bring her The 1989 World Tour to the Scottrade Center for not one, but two performances on Sept. 28 and Sept. 29.
Avoid construction, traffic jams and the hassles of finding a parking spot by taking Metro. Leave your vehicle at any of our 21 free Metro Park-Ride lots in Missouri and Illinois and take MetroLink to the Civic Center MetroLink Station (just steps from the Peabody Opera House and Scottrade Center) or the Delmar Loop MetroLink Station (near The Pageant).
You can also hop on MetroBus to get downtown or to the Delmar Loop. The Civic Center Transit Center, located at the intersection of 14th and Spruce Streets just south of the Scottrade Center, serves more than a dozen MetroBus routes. The Delmar Loop MetroLink Station serves five MetroBus routes. To plan your trip on public transit, use our handy Trip Planner tool or download our official mobile app, Metro On The Go.
Return to Blog