March 21, 2012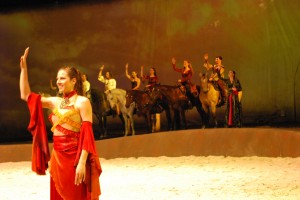 No doubt you have seen the billboards around the Bi-state area advertising something called Cavalia.  Well, tonight is the night Cavalia opens in St. Louis in the big white tent which looks a lot like a castle just south of Busch Stadium at 7th and Cerre Streets.
Public transit is your best bet if you are going to one of the Cavalia shows and want to want to avoid traffic jams and paying hefty parking fees.  Park your car at one of Metro's free Park-Ride lots in St. Louis County or St. Clair County, or take a MetroBus to any MetroLink Station. Then take the train to the Stadium MetroLink Station. From there, it's a three-minute walk south from the Stadium station to the Cavalia tent.
MetroBus to the Civic Center MetroLink Station is also a good option. Leave your car at home and catch one of the many MetroBus routes to the Civic Center MetroLink Station in Downtown St. Louis. Then hop aboard an eastbound train to the Stadium MetroLink Station, or enjoy a leisurely 10-minute walk to the Cavalia tent. Just go to our website and click on the Plan Your Next Trip section of our home page, put in your information, and it will give you the bus schedule information.
With your transportation taken care of, you can enjoy the show. Cavalia features about 50 horses and some three dozen acrobatic artists who highlight the magical bond between  horses and humans. The show runs through April 8.
Return to Blog