April 24, 2014
Take Metro Transit to the St. Louis Earth Day Festival This Sunday
Return to Blog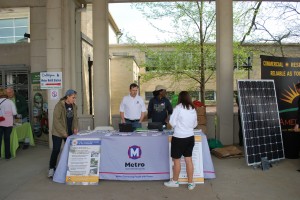 The St. Louis Earth Day Festival will be celebrating its 25th year in Forest Park this Sunday, April 27, and you can park the car and take Metro transit to get there.
The festival grounds are only a half mile from the Forest Park-DeBaliviere MetroLink Station. You can get some exercise and walk from the station, bring your bicycle on MetroLink and ride it from the station to the event, catch the #90 Hampton, or catch a free shuttle from the station to the Earth Day festivities.  To plan your trip, use our Trip Planner. There are free Park-Ride lots at 19 of our MetroLink stations.
If you do take MetroBus or MetroLink or both to the festivities on Sunday, and bring a bottle to refill with water at the Festival or bring your own bag to carry giveaways or purchases, then you will accomplish what the event organizers call the Earth Day Challenge. Your reward, for doing two of those three things, is an eco-friendly prize that you can claim, while they last, at the Earth Day Information Booth. You will need to show your Metro ticket or pass.
The St. Louis Earth Day Festival actually kicks off Saturday evening from 4 p.m. to 7 p.m. at The Muny in Forest Park with a $5 donation suggested for that Earth Day Eve event. All the Sunday Earth Day events from 11 a.m. to 6 p.m. at The Muny grounds are free and open to the public.
As a St. Louis Earth Day partner, Metro transit will have a booth on Sunday. Metro's booth will be near the main entrance of the Muny in "sponsor row." In addition to offering information about MetroBus and MetroLink, we would be happy to show you how to use our Trip Planner. You can pick up some Metro freebies, and even learn how to load your bicycle on an real MetroBus bike rack.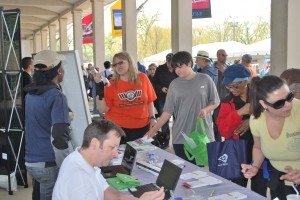 As an agency, Bi-State Development Agency/Metro employs sustainable business practices and has received a St. Louis Green Business Challenge Award for the past several years. The agency works to conserve energy and provide recycling opportunities in all areas of its internal operations.
Metro's award winning preventive maintenance program is a perfect example of the agency's dedication to efficiency, as it allows buses in the fleet to extend their years and miles on the road far beyond the national average.
The agency also recently established an internal 'Lean and Green Team' which holds green activities and looks for ways to make the agency more sustainable.
In addition to visiting our booth, there's also a lot of other fun things happening at the event. Listen to live music, learn about sustainable products and services offered by local businesses and meet area nonprofits who are sharing the mission of Earth Day every day.
There will also be lots of good food to purchase. Eight Green Dining Alliance members will be showcasing their certified sustainable food. Visit the booths of Atomic Cowboy, The Dam, Foundation Grounds, Handle Bar, Lulu's Local Eatery, Pi Pizzeria, Onesto and Urban Eats Café to show your support.
St. Louis Earth Day is the second largest Earth Day celebration, according to Earth Day Network, an international organization that catalogs and supports community Earth Day events around the world.
Return to Blog