June 4, 2015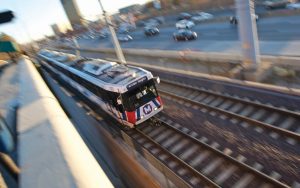 If you have plans to travel into downtown St. Louis this weekend, MetroLink is a great way to avoid lane closures and traffic headaches.
Currently, southbound Memorial between Walnut and Spruce, and the ramps to southbound Interstate 55 and westbound Interstate 44, are closed until 5 p.m. Monday, June 8.
Tonight (June 4), one left lane will be closed on northbound I-55. Overnight, northbound I-55/eastbound I-44 will be closed from 8 p.m. to 5 a.m. between 7th and Park and Washington.
From June 5 to June 7, all westbound lanes and ramps of I-44 will be closed between Tucker and 7th Street.  All lanes and ramps will reopen by 5 a.m. Monday. The express lanes will also be closed from 7 p.m. Friday to 5 a.m. Monday.
Between June 8 and June 9, southbound Memorial between Walnut and Spruce and access to westbound I-44 will be closed until the evening rush hour. The exit from eastbound I-44 to Walnut will be closed after the morning rush hour. One lane will be closed on eastbound and westbound I-44 at the Poplar Street Bridge between 7 p.m. and 5 a.m. nightly.
The temporary road closures are to allow crews to connect a new ramp from westbound Poplar Street Bridge to southbound I-55.
Sounds stressful, doesn't it? Avoid the detours all together, relax and let Metro do the driving for you. You can park for free at one of our 20 Metro Park-Ride lots in Missouri and Illinois, and take MetroLink to any of the downtown St. Louis MetroLink stations to avoid the lane and ramp closures on I-64, I-44 and I-55.
To plan your trip on MetroLink, use our handy Trip Planner tool or download our official mobile app, Metro On The Go.
Return to Blog